5 July 2019
| | 3 min read
Vans and HGVs cause further disruption on Killingworth Road
Newcastle City Council has received further reports of dangerous driving on Killingworth Road.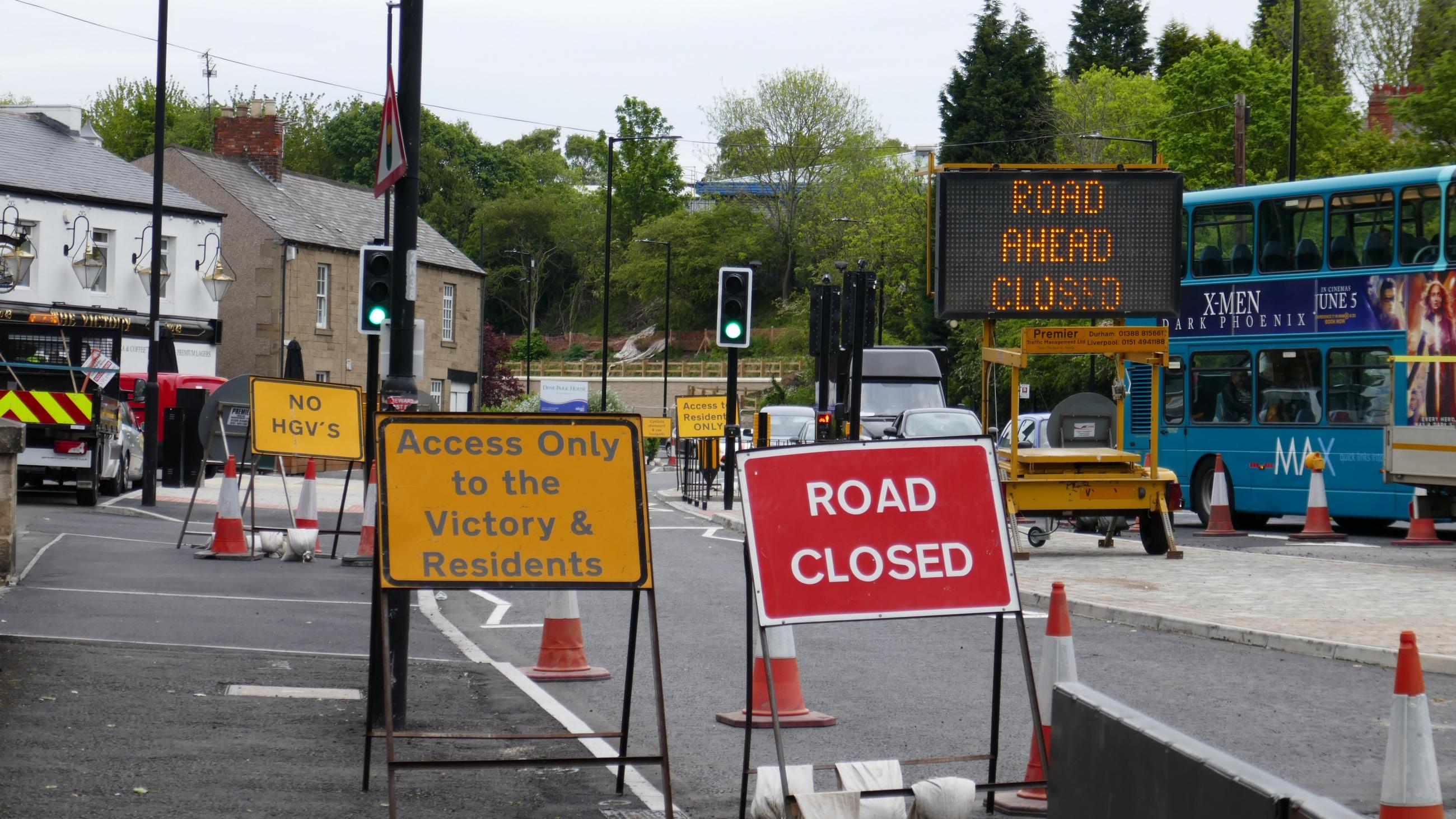 The A189 in South Gosforth was partially re-opened to southbound traffic in May but there have been further incidents of dangerous driving with some drivers breaking the law by driving north on the southbound lane, as well as many HGVs and lorries attempting to drive north before the road is opened for northbound traffic.
Due to ongoing construction work, only people on foot or bikes are allowed to go northbound, with only southbound traffic allowed on the road. Diversions remain in place for northbound traffic.
Despite repeated warnings from the council, many vehicles are still ignoring signage and driving north towards the Metro bridge before realising that access is for residents' parking only.
This has led to larger vehicles such as lorries and HGVs trying to squeeze through a narrow carriageway and becoming stuck and blocking the road while they complete the difficult manoeuvre of reversing back down the road - past running traffic, pedestrians, cyclists and construction staff.
CCTV footage of dangerous driving by lorry driver who removes safety barriers to drive northbound when Killingworth Road is open to southbound traffic only. Watch as the driver drives on to the pavement as oncoming traffic drives past. The lorry then waits for a gap in the traffic before driving northbound. A white van behind the lorry, follows the lorry and carries out the same dangerous manoeuvre. This footage has been sent to Northumbria Police #killiroad
Dangerous driving on Killingworth Road
5
Cllr Arlene Ainsley, cabinet member for transport and air quality said: "This is deeply concerning that so many vehicles are either deliberately ignoring signage or blindly following sat navs and flouting restrictions put in place for people's safety.
"What is even more shocking is the number of heavy goods vehicles, professional drivers, who are putting other people at risk and this needs to stop.
"Residents on Killingworth Road are understandably alarmed about the volumes of vehicles who are driving past their homes, reversing into their driveways or even blocking access to their homes despite the clear signage we have in place.
"Not to mention the added dangers for people on foot or bikes with drivers carrying out dangerous manoeuvres and taking reckless action. We are working closely with Northumbria Police to take enforcement action."
A Northumbria Police spokesperson said: "There is clear signage in the area informing drivers of the one-way system and if drivers do ignore it then it could result in a serious collision.
"We will take action against anyone who drives in a dangerous manner, as we would on any of our region's roads, as our priority will always be the safety of road users.
"Officers will review any footage submitted by the council and review whether any criminal offences have been committed."
The council first received reports of drivers flouting restrictions when the road re-opened to one-way traffic in May. To stop this, the council installed extra barriers to prevent vehicles going under the Metro bridge, put more warning signs to drivers and alerted traffic police to take enforcement action. They council are also advising residents to send any of their own footage of incidents on Killingworth Road to Northumbria Police using the link- https://beta.northumbria.police.uk/our-services/report-an-incident/dash-cam-submission/
Many drivers the council have spoken to about driving northbound have reported following their sat nav and not realising that traffic restrictions were in place. It's important to recognise it is an individual's responsibility to update their own sat nav.
Killingworth Road closed in July 2017 as part of a £13.5m package of improvements to widen a well-known pinch point on the network.
The programme of works included the installation of a new wider Metro bridge, diversion of major gas pipes which severely delayed the project, as well as the widening of the road to install a bus lane and improved facilities for those on foot and bikes.
Due to the extended closure of Killingworth Road, the council committed to a phased opening of the road to get traffic back on the road as soon as it was safe and practical to do so.
As construction is ongoing, initially only southbound traffic is allowed, with two-way traffic planned in the next few weeks, until the project completes in early 2020.
We will take action against anyone who drives in a dangerous manner, as we would on any of our region's roads, as our priority will always be the safety of road users.
Northumbria Police
Spokesperson