24 July 2020
| | 3 min read
Work starts to transform city centre street
Work to create pavement cafes and space for social distancing is starting on Grey Street in Newcastle next week.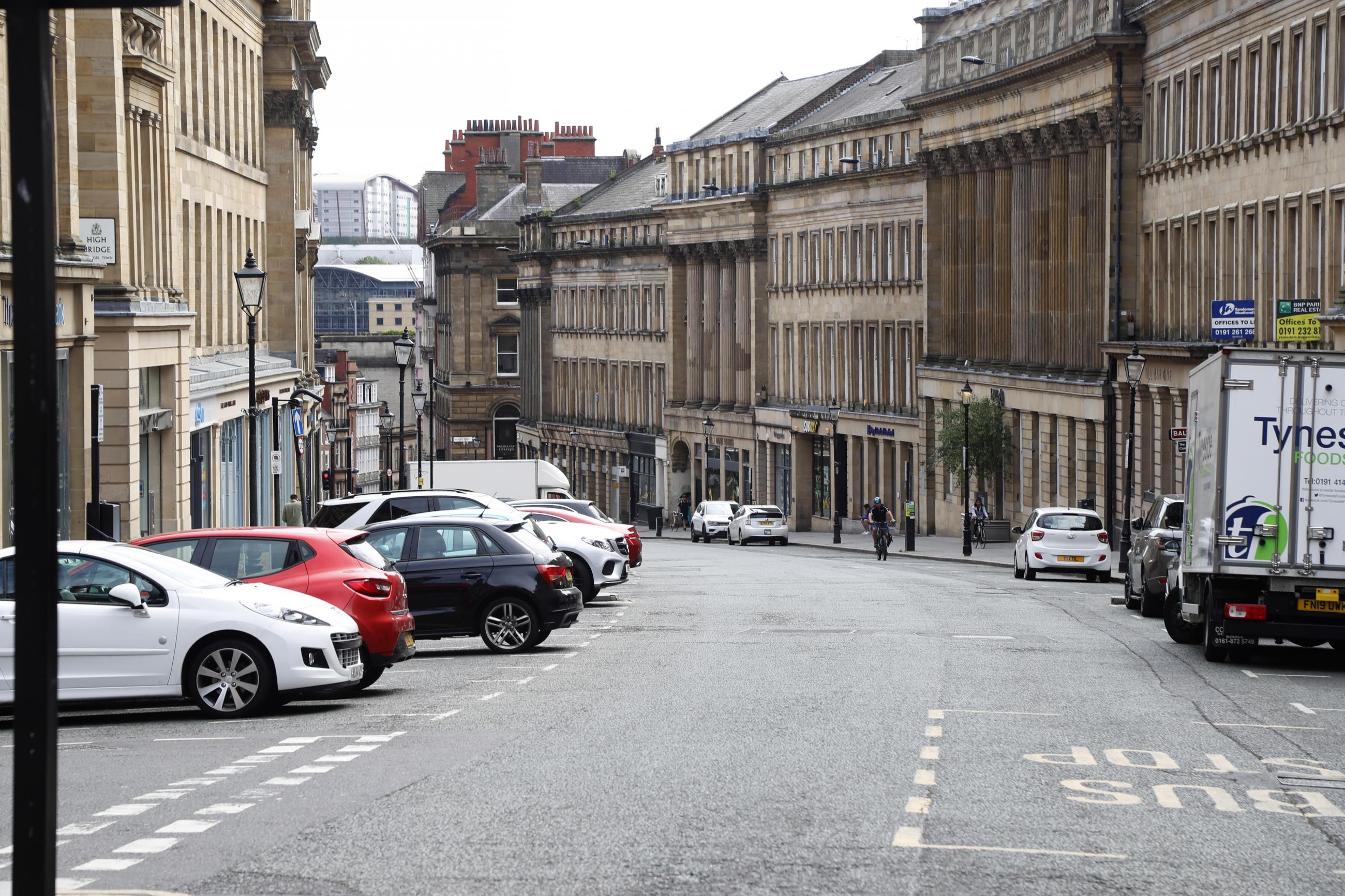 New measures will see pavements extended into the road and extra space outside of bars, restaurants and cafes that – subject to licensing permission being granted – could be used for outside seating for customers.
The changes will be the first phase in plans to transform the street into a more people-friendly area with less traffic and safer cycling.
The second phase, from autumn, will involve preparation for winter, including the potential for businesses to install canopies and outdoor heaters to enable pavement cafes to continue operating during the colder months.
Early next year the council will set out the third phase of the plans. This will be to make permanent changes on Grey Street that will be based on the temporary measures being introduced now and will reflect feedback from people about the temporary measures.
To create the additional space needed on the street and in response to requests from businesses, Newcastle City Council is removing the majority of the on-street parking bays, although there will remain a limited number on the east side of Grey Street and some will be dedicated for use by blue badge holders.
Traffic will also be restricted to only travelling one-way heading southbound and a protected northbound cycle lane will be introduced. 
The changes on the street are part of wider measures being put in place throughout the city centre in response to the coronavirus pandemic and the need for social distancing.
Initially changes will be made using temporary materials but this will include a number of planters, with trees and shrubs, and wooden cladding – being produced by a local business – to improve the appearance of any concrete blocks and barriers that may be needed.  
The city council has been liaising with partners, including NE1 and local businesses to finalise the changes, which will start to be put in place from Tuesday (July 28).
Cllr Arlene Ainsley, cabinet member for transport and air quality, said: "The view down Grey Street is simply stunning and, although we need to use temporary materials at first, we are going to be doing everything we can to ensure the beauty of the street is maintained.
"We've been working closely with NE1 and local businesses to ensure that the layout and appearance of the changes we're making are appropriate and we look forward to seeing businesses being able to use the new space for pavement cafes and outdoor space for their customers.
"We have already seen a series of successful changes to our transport network to enable people to get around safely as the city starts to reopen, including improved opportunities to walk and cycle.
"We have prioritised our main retail areas, including Northumberland Street and Blackett Street, and we are continuing to monitor these measures and make changes in response to feedback to ensure they are working effectively.
"We will be looking at how these short term changes could help us deliver our longer term ambitions for a cleaner and healthier city centre with a greener transport network and reduced pollution."
Adrian Waddell, chief executive of NE1 Ltd, said: "It is excellent to see the council working collaboratively with businesses and with NE1 to implement these important measures quickly.  It is increasingly clear that being able to use outdoor space is hugely important commercially for businesses and will hopefully give greater confidence to the public to return to the city centre to enjoy all the amenities on offer.
"We look forward to seeing how these new arrangements will work on Grey Street and how businesses and the public respond to the new flexible space created.  Because the new arrangements are temporary they can be tried and tested before being made more permanent.
"Managing the public realm in Newcastle is crucial to the city centre's economic survival.  We need to get it right and we commend the council for their rapid efforts and the vision they have had for the city post-Covid."
Other recent changes in the city centre have included putting in place social distancing measures on Grainger Street, Market Street, North Pilgrim Street and New Bridge Street. The city council has liaised with bus companies whose services use these routes in order to finalise these measures.
Additional changes to new measures have also be introduced on Queen Victoria Road, where a temporary cycle lane was put in place. 
New arrangements for the cycle lane have been made following feedback from those who have been using the new temporary route and from the Hospitals Trust.
This means there is now a one-way cycle lane on both sides of the road, travelling in the same direction as traffic, instead of the initial two-way cycle lane along just one side of the road.
All of the temporary measures remain under review to ensure they are working effectively and can be altered if necessary.