24 September 2020
| | 4 min read
Warning after batteries spark recycling plant fire
Residents are being reminded to dispose of batteries properly after a fire at a North East recycling plant.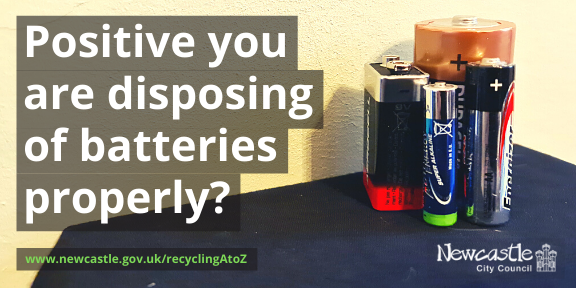 Despite a large network of free-to-use collection points in supermarkets, large DIY stores, at Newcastle's three recycling centres, and many other shops, more and more old batteries are finding their ways into household rubbish and recycling.
That poses a risk of fire in bins, bin wagons and – as seen recently at a facility that processes waste for many of the region's councils – recycling plants.
'No reason not to recycle batteries properly'
Cllr John-Paul Stephenson, Newcastle City Council's cabinet member for environment and regulatory services, said: "Thankfully, due to the swift actions of our contractor's staff, the fire at their material reclamation facility didn't cause significant damage, but it could have been much worse.
"Across the country waste fires in bin wagons, at recycling centres, and at processing facilities continue to increase, and unfortunately it could only be a matter of time before something more serious happens here in the North East.
"Yet there really is no reason that should be the case – All across our city there are dedicated collection points for old batteries, and it takes so little effort to remember to take them with you when you are nipping out to do your food shopping, picking up DIY supplies or visiting one of our recycling centres."
How batteries cause fires
Even low voltage batteries, like commonly used AA and AAA alkaline varieties, can start a fire under the right conditions.
If their negative and positive terminals come into contact with something metal, heat begins to build and if that is confined, for example by other rubbish, it can't dissipate, and will eventually get hot enough to ignite the surrounding materials.
Bin it right
Cllr Stephenson said: "As always we must encourage everyone to bin their rubbish right.
"Don't put batteries in your rubbish, recycling or garden waste bins and whatever items you want to dispose of find out how to do so responsibly on our website at www.newcastle.gov.uk/recyclingAtoZ."
Time to Take Charge of a national problem
The warning about the dangers posed by batteries comes at a time when the issue is set to be highlighted nationally through the new Take Charge campaign from the Environmental Services Association (ESA), the UK recycling and waste management trade body.
Its members report that certain high-energy rechargeable batteries – particularly lithium-ion ones - are responsible for a significant percentage of the fires that occur in recycling and waste management facilities or vehicles.
ESA executive director Jacob Hayler said: "Our society is seeing an exponential increase in the use of high-energy rechargeable batteries across a wide range of electronic devices, so we expect the number and frequency of battery-related waste fires to increase in future unless we can encourage consumers to use proper recycling infrastructure more often.
"Waste fires not only cause millions of pounds of damage every year and disrupt services but, more importantly, can put lives at risk, so this is clearly a serious issue."