30 July 2021
| | 5 min read
Wastebot permit system resumes at Brunswick recycling centre
Families with vans and other larger vehicles will again be able to visit a Newcastle recycling centre from Monday August 2.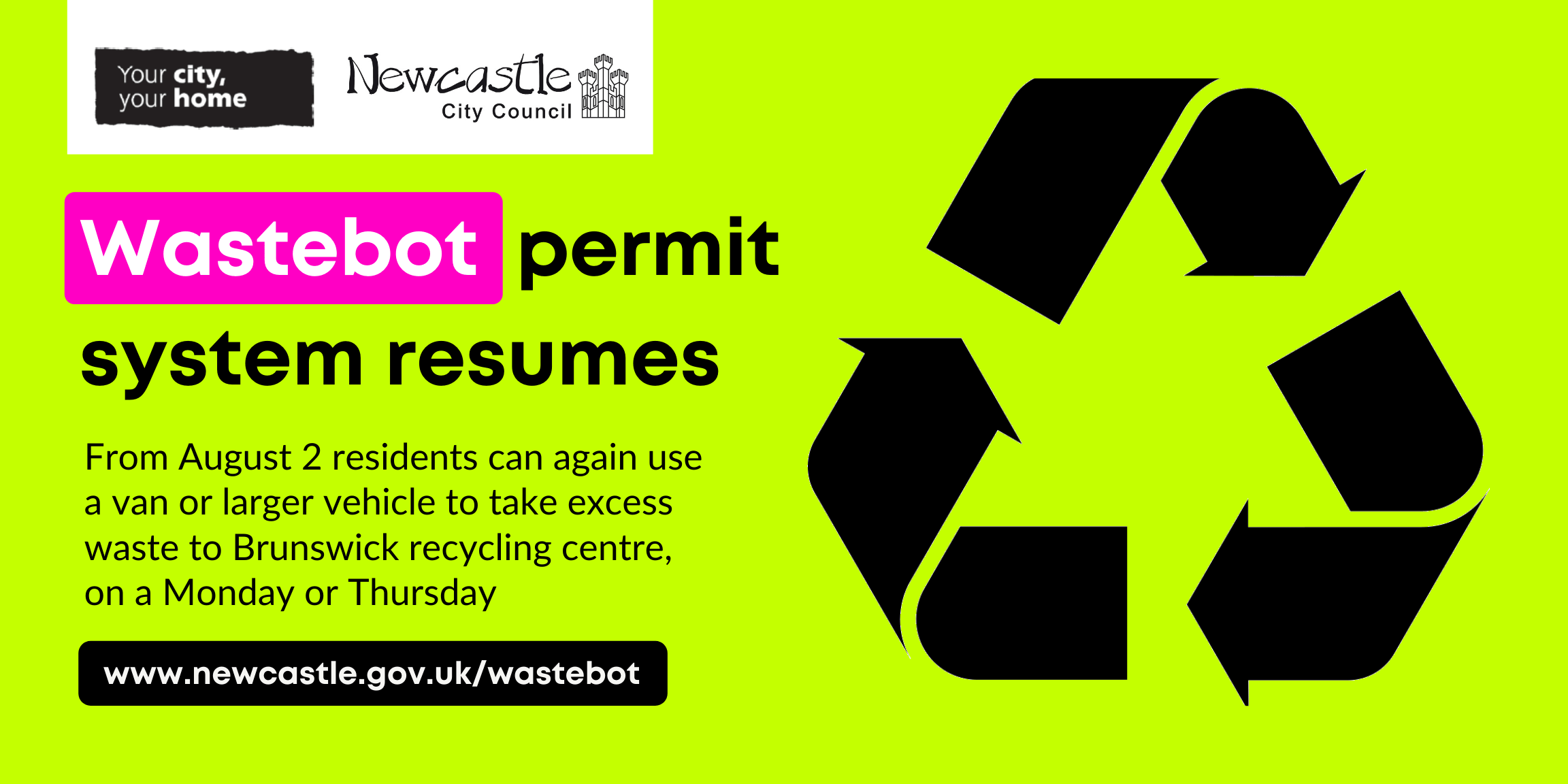 During the pandemic, to make social distancing possible and ensure the safety of both staff and the public, Newcastle City Council suspended its Wastebot permit system.
But now, while still taking steps to keep visitors as safe as possible, the authority is to reintroduce it at its Brunswick site, with residents who make use of the scheme able to drop off their waste on a Monday or Thursday, in line with the odds and even entry rules.
Cllr Ged Bell, Cabinet member for development, neighbourhoods and transport, said: "We know that Covid-19 has proven a challenge for many families in terms of the amount of waste they've produced and their ability to dispose of it in a responsible manner.
"Demand for our recycling centres has been strong, and it is a testament to both staff and residents that we managed to adapt to a new way of doing things, one which has continued to allow us to welcome tens of thousands of people to our three sites across the city.
"Of course until now that has unfortunately not included those families who seek to dispose of their household waste using a van or other larger vehicle, and we can only thank them for their understanding as to why it was not possible to fit them in amid our Covid secure measures.
"However, I'm delighted to say that, while the pandemic is still with us, with national restrictions having relaxed we can once again allow them back into our most accessible site, Brunswick, on two days each week.
"And we will of course continue to monitor how we operate and should further changes be possible, we will look to make them as appropriate."
New access arrangements
Residents with larger vehicles who have successfully gained a permit will be able to attend Brunswick on Mondays or Thursdays from Monday 2 August 2021, in line with the recycling centre's odds and evens system, which remains in place.
Should someone with a permit attempt to visit Byker or Walbottle HWRCs they will be turned away and directed to visit Brunswick instead.
All other recycling centre rules, including those introduced during the pandemic, remain in place – Details can be found on our recycling centre information page.
Specifically for Brunswick that includes not being able to dispose of rubble, soil or unwanted fridges.
Why Brunswick?
Brunswick household waste recycling centre (HWRC) is the most accessible of Newcastle City Council's HWRCs due to the site layout for vehicle movement.
Unlike the sites at Byker and Walbottle its layout allows vehicles to exit freely, without other cars in front having to drive out first.
This means there is potential capacity for visitors with vans and other larger vehicles, which may take slightly longer to unload, to take more time than the previously permitted 10 minutes, without affecting other users.
Wastebot permit system
Newcastle's free Wastebot permits were introduced in 2017 to make it easier for residents with larger and commercial-type vehicles to dispose of their excess household waste.
That includes any vehicle over 2m high, over 6m long, exceeding 3.5 tonnes in weight and may incorporate:
Vans (including hire vans)

Car-derived vans 

Pick-up trucks

Campervans and minibuses

Any vehicle exceeding seven seats

Any vehicle towing a trailer

Any vehicle displaying company livery or logo

Any vehicle with rear seats removed/ or modified
The text message based system, which replaced a paper form process, quickly saw increased use, with the number of such vehicles accessing the council's sites rising from an average of around 1,860 a year to, in 2019, almost 8,000.
As well as increasing resident access, the system also allowed the council to ensure that only people in Newcastle were using the sites, and to monitor and prevent rogue commercial operators from illegally disposing of trade waste using the HWRCs.
Apply for a Wastebot permit
Text 'waste' to this number 07492 880069

Follow the instructions as the WasteBot texts you back.

You will be asked by text to confirm your name and address. This process takes approximately 1 minute to complete. There may be a slight delay (up to 15 seconds) after sending first text message.

You will be registered to use our automated text permit service where you can receive your permit immediately to your mobile phone. You can also see other waste related information, like opening times and bin collection dates.

Each time you visit the site you will need to take your driving licence (or other photo identification and proof of Newcastle address), with you. You will also need to show your text message permit.
Find out more on our Wastebot permits page.