24 July 2019
| | 3 min read
Newcastle's Best Summer Ever has launched
Newcastle's Best Summer Ever (NBSE) officially launched today as 45 children enjoyed arts and crafts, sports, and received nutritious meals at Blakelaw Community Centre.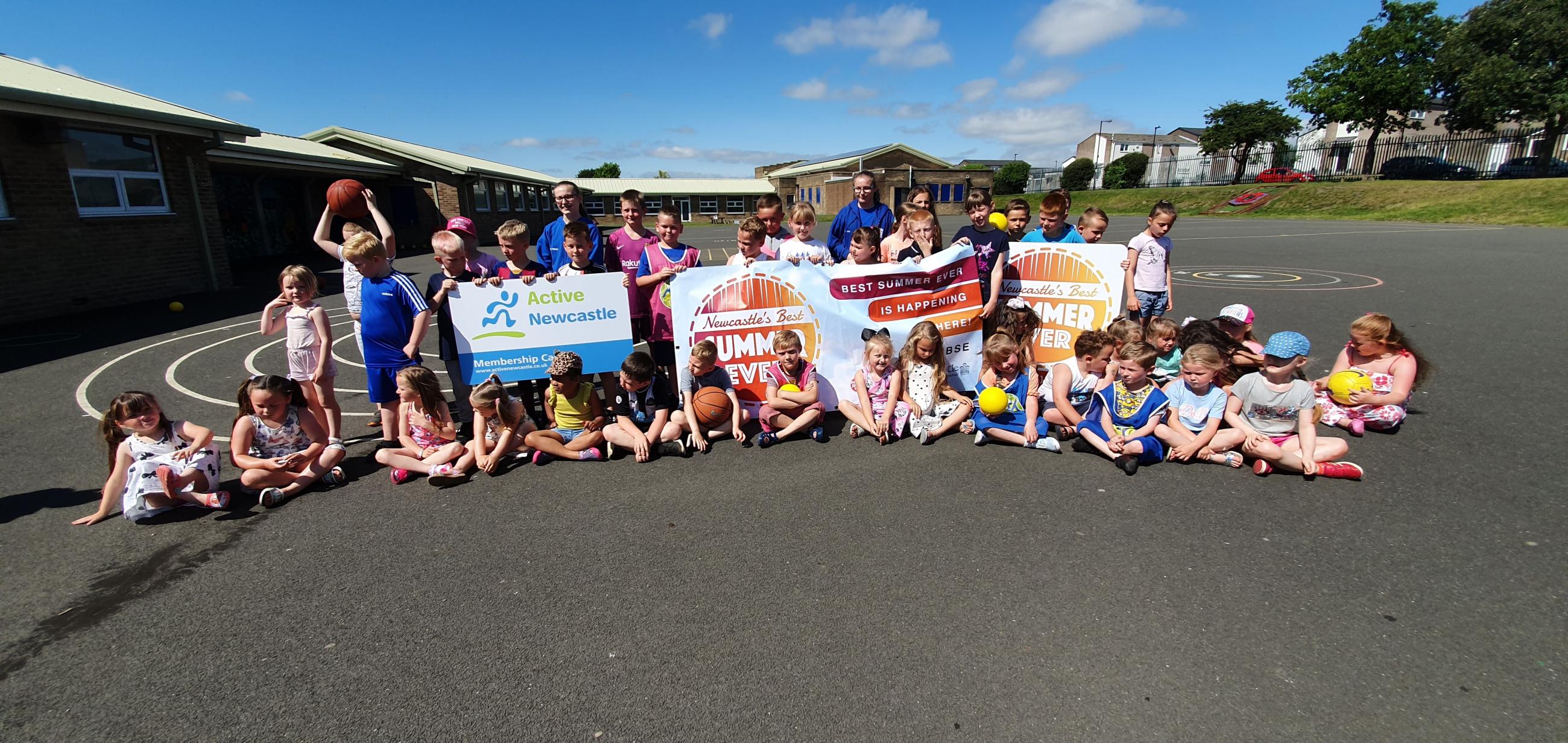 The day marked the beginning of a £1.1m programme of summer activities, which will provide healthy food and activities during the summer holidays across Newcastle. The programme is funded by the Department for Education, and is led by StreetGames in partnership with Newcastle City Council. 
NBSE spokesperson John Downes said: "This has been a really good start to Newcastle's Best Summer Ever. There's smiles on the faces of the kids, the weather has been amazing for us and the feedback we've had has been great. 
"We hope it carries on like this throughout the programme to allow as many young people as possible to have their best ever summers." 
It is estimated that over 26,723 young people in Newcastle live in deprived areas and 10,344 of them receive free school meals. During the school holidays families can struggle without access to free school meals and breakfast clubs, which increases the likelihood of holiday hunger and fatigue over the summer.  
Dozens of children attended the launch of Newcastle's Best Summer Ever, a £1.1m project to provide activities and nutritious meals throughout the summer holidays.
Newcastle's Best Summer Ever gets under way
Cllr Clare Penny-Evans, Newcastle City Council's cabinet member for communities, said: "After so much planning it amazing to see Newcastle's Best Summer Ever officially get under way.
"The offer is open to all children and young people in the city and we are creating a programme that will suit everyone's tastes and be fully inclusive – everyone taking part will get lunch and nutritional advice from our team of experts to keep them fuelled up during their chosen activities.
"I hope everyone, from all communities and backgrounds, will really get on board and be a part of Newcastle's Best Summer Ever and enjoy this fantastic opportunity."
Healthy food and nutritional information will be available at all events and will be provided by School Meals Service and FareShare to ensure quality and high nutritional value.
Leanne Risk, of the Newcastle Community Asset Trust which runs Blakelaw Community Centre, said: "Children and young people access our services regularly but since getting involved with Newcastle's Best Summer Ever through StreetGames we've been able to extend our provision.
"We're able to do more with the children, we've added staff and volunteers to support us and the meals we're able to provide now are so much better."
You can get involved by booking on the Active Newcastle website or signing up at one of our events.
You can also follow us on social media: Twitter: @NBSE2019, Facebook: NewcastlesBestSummerEver, Instagram: @newcastlesbestsummerever
Keep an eye on www.activenewcastle.co.uk for regular updates about Newcastle's Best Summer Ever.
If you have any questions about the summer programme, please contact: bestsummerever@streetgames.org
This has been a really good start to Newcastle's Best Summer Ever. There's smiles on the faces of the kids, the weather has been amazing
John Downes
Newcastle's Best Summer Ever spokesperson