Our website will be undergoing essential maintenance from 9am on Friday,  21st of November for a short period of time. Please avoid completing any online forms during this time. Apologies for any inconvenience this may cause.
5 July 2019
| | 4 min read
North East steps up preparations for World Transplant Games with 6 weeks to go
Participants from 60 countries across the world will travel to the North East for the World Transplant Games in six weeks' time. Athletes are travelling from far and wide, with several countries taking part for the first time, including; Azerbaijan, Ethiopia, Kenya, Mongolia and Nepal.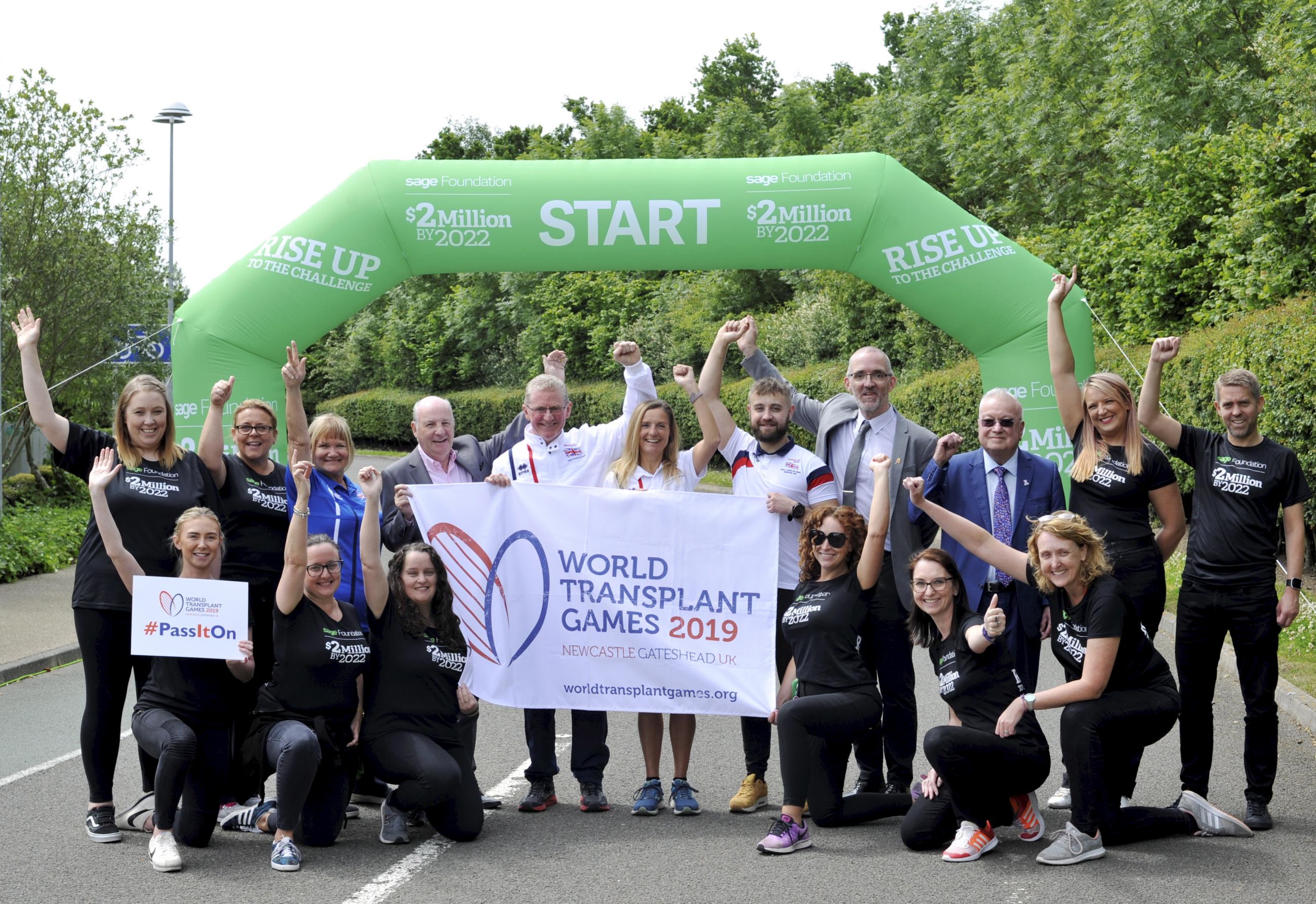 The Games are open to all ages and promote the benefits of transplantation and encourage transplant patients to regain fitness, as well as raising awareness of organ donation. The youngest participant is a 6-year-old Argentinian girl who will compete in the ball throw, long jump and 50 metre sprint, with the oldest an 84-year-old French man taking part in the cycling, swimming and athletics.
As well as those participating, over 800 volunteers have signed-up to support the World Transplant Games this summer and help spread the word about organ donation.
Representatives from the World Transplant Games Federation have been visiting the region in preparation for the Games that will take place from 17-24 August. Thirteen venues across the region, including Gateshead International Stadium, Sunderland Aquatic Centre, Close House Golf Resort and Sport Central, will play host to 15 sporting events.
Colin White, Treasurer of the World Transplant Games Federation (WTGF), said: "The WTGF is excited at the prospect of the Games in NewcastleGateshead in August. The Local Organising Committee has clearly been working exceptionally hard and the level of public engagement is particularly noteworthy, with the Sage UK 6k Fun Run a perfect example.
"It would be wonderful to see those who participate in the Run also coming out to support the competitions throughout the week of the Games – they are guaranteed a sporting spectacle and they will also see for themselves that organ donation truly works."
I was on life support for about 4 months and it was decided I was not going to survive unless I had a Heart Transplant, I was rushed from London to the Freeman Hospital. 
Support the World Transplant Games!
As well as the sporting events, the Games will celebrate transplant recipients and donors through opening and closing ceremonies, a donor recognition event and further cultural activities. The public can get involved by coming along to spectate, as well as taking part in the Gift of Life Run on Sunday 18 August at Newcastle Exhibition Park and the Town Moor.  
Graham Wylie, chair of the World Transplant Games NewcastleGateshead 2019, said: "We are counting down the days until the start of the Games and can't wait to welcome nearly 2,300 participants to the North East. The athletes will compete at several world class sporting venues across our region, as well as celebrating organ donation through our fabulous social and cultural programme.
"The athletes that compete at the World Transplant Games are a true inspiration and we are honoured to be able to welcome such an inspiring celebration of human coverage and physical fitness to the region."
On Saturday 6 July Sage UK will host their annual 6k Fun Run which this year will be in aid of the World Transplant Games NewcastleGateshead 2019.
Sage is supporting the Games through a variety of events. Debbie Wall of Sage, who heads up the company's philanthropy, diversity & inclusion programmes globally, added: "Sage colleagues and local running clubs have been invited to our 6 kilometre Fun Run on Saturday July 6th, dedicated to raising awareness as well as funds for the World Transplant Games.
"Olympic medallist Jonathan Edwards, CBE, the former champion triple jumper, will be starting the run for us – we're thrilled that he's able to lend his support to the event.
"We at Sage are extremely proud to support the World Transplant Games here in Newcastle. This is our UK headquarters, where Sage, now a FTSE 100 global business, first started."
The World Transplant Games NewcastleGateshead 2019 are supported by a number of businesses both in the North East and nationally, including Games sponsors Westfield Health and HSBC.
Graham Moore, Chairman of Westfield Health, a headline sponsor of the Games is overwhelmed by the dedication of everyone taking part. He added: "We're immensely proud to be supporting such a worthwhile cause. Organ donation should be celebrated, and we're so pleased to see so many athletes from across the globe taking part and doing just that.
"I'd like to say good luck to all of the athletes in their events and a huge thank you to the volunteers who make the Games a possibility. I'm really looking forward to watching and supporting the Games and celebrating the gift of life."
From Spring 2020 the law around organ donation in England is changing. All adults will be considered to have agreed to be an organ donor when they die unless they have recorded a decision not to donate or are in one of the excluded groups – this is commonly referred to as an 'opt-out' system. NHS Blood and Transplant's #PassItOn campaign encourages people to pass on the fact the law is changing, decide on whether they want to pass on their organs and pass on their decision to their friends and family.  
For more information on World Transplant Games 2019 visit www.worldtransplantgames.org  
It would be wonderful to see those who participate in the Run also coming out to support the competitions throughout the week of the Games – they are guaranteed a sporting spectacle and they will also see for themselves that organ donation truly works
Colin White
World Transplant Games Federation (WTGF)