Cultural and Creative Zone
Cultural and Creative Zone
'Skills & knowledge to support our current and future cultural and creative sectors - Pilot Project' OPEN CALL
Workspace Small Grant Scheme Phase 1
Newcastle's Culture and Creative Zone (CCZ) is located within the city centre's conversation area, with Clayton Street acting as a central spine but with the CCZ spreading outwards as far as The Common Room to the east, the Discovery Museum to the west, Grainger Market to the north, and the Centre for Life to the south.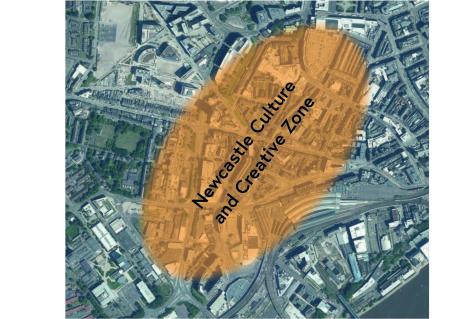 Packed with architectural interest and a rich history, the CCZ is at the forefront of the reinvention and revitalisation of Newcastle city centre. Already populated by a wealth of well-established cultural and creative organisations and with excellent communication and public transport links, our ambition is to make the area the destination in the North-East to develop a creative career – with a distinctive profile and ambience; workspace, skills and business development opportunities available cheek-by-jowl; and creative making, sharing, networking and social facilities on every street and street corner. 
Accessible and easily navigated by pedestrians, the CCZ is close to the two universities, Newcastle College and the diverse communities of the west end of the city, and will appeal to, and support, artists and creative entrepreneurs who want to establish and develop their practices and businesses that that will flourish in the future.
We have secured £1.7m from the North of Tyne Combined Authority (NTCA) to deliver a programme of activity over the next 5 years that will help us achieve our vision for the Zone. NTCA is a partnership of three local authorities: Newcastle City Council, North Tyneside Council, and Northumberland County Council and the North of Tyne Elected Mayor. Our new funding will allow us to fund programmes of activity and events that will help boost the local cultural and creative sector and hopefully catalyse further investment. The programmes and opportunities provided by the CCZ will be tailored:
to meet the needs of existing cultural operators

to attract and retain creative talent

to facilitate the development of a diverse and highly skilled creative workforce for the future

to champion the development of sustainable, low-carbon, cultural production, and

to catalyse the growth of the cultural economy and the wider economy of the city

create a distinctive new cultural destination for participants, residents and visitors
There are currently two funded opportunities open for applications relating to Newcastle's Culture and Creative Zone.
This open call is for a range of pilot projects to address key themes and challenges (identified through consultation and engagement with the sector) to support the skills and knowledge development of the cultural and creative industries in Newcastle.
Funding of between £5,000 - £50,000 will be available for a broad range of exciting project ideas. We are particularly interested in supporting activities that are trying something new or expanding an existing programme of support in a different way. 
Our Open Call briefing document contains detailed information about the call and how to express an interest in applying. Open Call brief Oct 2022
We would also encourage you to attend an online information session taking place on Thursday 3rd November 2022 at 10am, where we will talk through the opportunity in detail and will answer questions. Link to our eventbrite sign up page.
This open call will operate on a rolling basis. There is currently no deadline, though this may change in the future as funding is awarded. We expect the first applications to be assessed in November 2022, with subsequent assessments taking place roughly every month (except December).
Contact the CCZ Project Manager, Vikki Leaney with any questions you have about applying after you have reviewed the open call briefing document  Vikki.leaney@newcastle.gov.uk .
Newcastle CCZ Workspace Small Grant Scheme Round 1
A key objective for the Zone is to increase the amount of physical space where cultural and creative practitioners and businesses can come together to work, collaborate, rehearse, and perform. Through our CCZ Workspace Small Grants scheme, we aim to encourage potential workspace providers and property owners to bring forward plans that will result in a net increase in workspace predominantly for the use of the culture and creative sectors. The investment may directly lead to an increase in new workspace, or it may accelerate the development of plans for the creation of new workspace. Proposals that do neither will not be considered.
The list below provides an example of types of expenditure our grants may be able to support, but this is not exhaustive:
Feasibility studies

Market research

Planning fees

Fit out costs (e.g., physical improvements to properties)

Accessibility improvements (e.g., fire escapes, lifts)

Furniture and equipment (if part of a wider improvement scheme)
 Funding of up to £15,000 will be available, with the majority of the awards being made at a lower amount. Larger awards may be possible in exceptional circumstances.
Read the full brief for detailed information about the scheme and how to express an interest in applying. Newcastle CCZ Workspace Small Grant Scheme Round 1 brief
Contact the CCZ Project Manager, Vikki Leaney with any questions you have about applying after you have reviewed the brief document  Vikki.leaney@newcastle.gov.uk
Other Funding Opportunities
For details of other Funding Opportunities with the North of Tyne Combined Authority and Creative UK, please see read here.