Edith Adamson Carillon – Newcastle Civic Centre
Edith Adamson Carillon – Newcastle Civic Centre
The Edith Adamson Carillon at Newcastle's Civic Centre has taken pride of place on Newcastle's skyline since original construction was completed in 1967.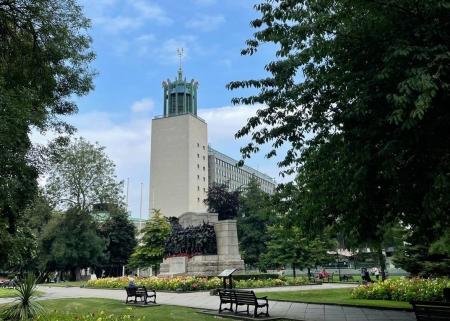 The 25 bells that make the carillon were bequeathed to Newcastle City Council by James Adamson in memory of his wife, Edith Annie Adamson who died in the same year work commenced on the Civic Centre.
They were cast by J. Taylor & Co. under the consultation of George Brownlow and John Heal at a cost of £21,000 (1963, approx. £450,000 adjusted 2020).
The Edith Adamson carillon is the heaviest carillon of its kind in the world, with a total metal mass of 22 tonnes.
The Carillon Tower at the Civic Centre is adorned with 12 large and 8 small seahorses designed by J. R. M. Cheyne as part of the original building design.
Current recital times
Monday – 3pm to 4pm
Friday – 3pm to 4pm
Carillon players
The Edith Adamson Carillon is currently played by Jonathan Bradley, who first started regular recitals in 2015. Previously the carillon has been played by Richard Jennings, Chris Briggs, John Knox, and Dr. Ian Brunt.
It is a great privilege to play for the people of the city and the Adamson family. Despite its size, it is a musical instrument of incredible sensitivity and even though playing it can be physically demanding, it makes me happy knowing that the carillon's haunting sound is able to reach out to public listeners.Jonathan Bradley
Want to know more?
Contact Jonathan Bradley at newcastlecarillon@gmail.com 
Did you know?
An inscription at the Civic Centre in relation to the carillon reads:
THE EDITH ADAMSON CARILLON
Surmounting this building and comprising twenty five bells
Was presented in June 1967, by James Wilfred Adamson Esquire
In memory of his wife and in appreciation of all that this city has meant to him.