Tyne Bridge restoration
Tyne Bridge restoration
The Tyne Bridge is recognised the world over and is not only an iconic landmark, it is also a vital part of the city's transport network and a gateway to our city and the wider region, used by over 70,000 vehicles a day. 
Unfortunately, its iconic status and current state of repair are not aligned. Extensive work is needed to restore the Grade II* listed bridge to its former glory and to ensure that the North East continues to benefit from robust infrastructure and a safe and efficient highways network. The Tyne Bridge is also of critical importance to  the visitor economy of the region and plays host to a number of events, including the Great North Run.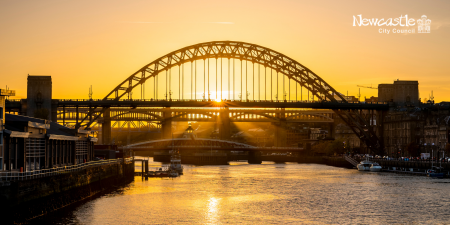 With the bridge approaching its centenary in 2028, the council is keen to source funding as the bridge needs a long overdue major maintenance programme, which includes the sizeable task of painting it, as well as upgrading many parts of this ageing structure. 
As the last major maintenance programme was 20 years ago, any further delay to the much-needed restoration work could see introduction of weight and/or traffic restrictions, which would have huge disbenefits to the city and the region as a whole.
The impact would be continuing deterioration of the asset condition of this major structure and correspondingly - 
Imposition of weight and traffic flow restrictions on the Tyne bridge; 

Increased pressure on the network, during a time when significant works are expected on key sections of the Strategic Road Network routes in the region; 

Increased journey times and reduced reliability of the network. 

 
We are seeking £18.45 million in Levelling Up Fund to completely refurbish the Grade II listed structure, with the council providing just under £2 million in match funding.
This bid has been backed by political leaders and MPs from across the region , including all three Newcastle MPs. 
The restoration programme includes steelwork repairs, extensive painting, concrete repairs, drainage improvements, stonework and masonry repairs, bridge deck waterproofing, parapet protection and bridge joint replacement. These works will maintain the load capacity of the structures and future proof the route by alleviating the need for continual adhoc maintenance works. 
A previous bid for £40 million was submitted to the Department for Transport as part of a co-ordinated bid with Transport for the North in 2019, which also entailed a major maintenance project for Central Motorway and refurbishment of the Tyne Bridge.  
In response, Government allocated £100k to the council to develop the scheme further and based on feedback from government on our initial submission, an updated outline business case has been re-submitted to government.  
The submission to government of the Levelling Up Fund bid helps to ensure the importance of the bridge is recognised as we put forward an alternative funding option via the Levelling Up Fund. 
By taking this approach, the council are ensuring we use all available routes to secure the funding for this essential asset.