Recycling plastics
Recycling plastics
Plastic has a major impact on the environment, both from how it's made and how it's disposed of.
We should all try to use less new plastic. Where we do use it, it is important that we recycle and re-use those items.
Plastics we recycle
In your blue bin you can recycle:
milk or drinks bottles

trigger spray cleaning bottles

empty bleach bottles

yoghurt pots

margarine tubs

vegetable punnets

processed food trays and deli food trays

chocolate tubs and biscuit tubs

ice cream tubs

trays from chocolate boxes and biscuit boxes
The key thing to remember is black plastic, like some microwave meal trays or meat trays, is not suitable for recycling.
Recycling plastic bags and wrapping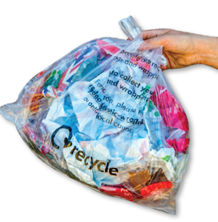 Over 5,000 homes in Newcastle are to be part of new recycling project, starting on 5 June 2023.
We have been chosen to take part in a major, two year pilot for the collection of plastic bags and wrapping as part of normal recycling pick-ups.
Plastic bags and wrapping are a considerable challenge, making up 22 percent of all UK consumer plastic packaging in 2020. However, only 6 percent was recycled.  
At present, the only way to recycle plastic bags and wrapping is at supermarket collection points.
This trial will help change that by making recycling plastic bags and wrapping more convenient for everyone, which will increase the amount of packaging that the UK recycles. If successful, it will be expanded later in 2023.
Homes included in the trial will receive:
letters and leaflets through the door to explain the scheme and what they need to do

a six month supply of recycling bags
The households involved will be able to dispose of plastics such as:
bags

confectionary wrappers

crisp packets

plastic film

bubble wrap
For more details about the trial, including top tips and frequently asked questions, see:
If you have been selected to take part and need more collection bags please:
If your household is not included in the trial then you can still dispose of plastic bags and wrapping by taking them to local supermarkets across Newcastle.
Why recycling plastic is important
Plastics are made from oil, a fossil fuel that will one day run out. It is important to make use of materials like plastics that can be recycled and re-used, rather than continually using the fossil fuels used to make them in the first place.
Plastic products also do not rot away easily and they can stay in the environment for decades. You may have seen documentaries about all the plastic in the world's oceans or just found really old plastic items lurking in hedgerows and on roadsides. These items are hazardous to wildlife and are unsightly. People should not drop litter at all regardless of the circumstances.
Ideally we should try and use less plastic overall. But we should also be making sure that we correctly recycle as much plastic as possible.
How to recycle items that cannot go in your blue bin
There are a number of alternatives to make sure you recycle as much as possible.
Recycling via 

Terracycle

. This organisation offers recycling programmes funded by brands, manufacturers, and retailers around the world to help collect  hard-to-recycle waste. This is brand and location specific, with businesses and organisations signing up to offer a collection point for things like make up, toothpaste tubes and crisp packets. This is a regional service so you will need to see what is specifically available in our area. Please note this is an external website that is not affiliated with Newcastle City Council and we are not responsible for their web content.

 Through "purchase locations." Some shops will take back your packaging or they provide special bins where you can deposit items. For example some DIY shops have bins where you take back old light bulbs and batteries. Some cosmetic shops will take back used pots, tubs and bottles. Some supermarkets will take back used carrier bags. 

RecycleNow

 has a handy tool on their

 website

 where you can find local places to deposit items.

Some items can be taken to our 

household waste recycling centres.
More information
Why can't we just ban all plastic packaging? Why can't we just use glass or paper instead? What about bio-plastics? Are companies doing enough? - Sustainability experts WRAP's Clear on Plastic campaign can help answer your questions.
Find out more at Clearonplastics.com.
Related Pages
Need more information?
If you are ever not sure about what can and cannot go in any of your bins, please contact us. Just phone 0191 2787878 and ask for "Your Local Services." Our knowledgeable staff will be happy to help.