Armed Forces Day
Armed Forces Day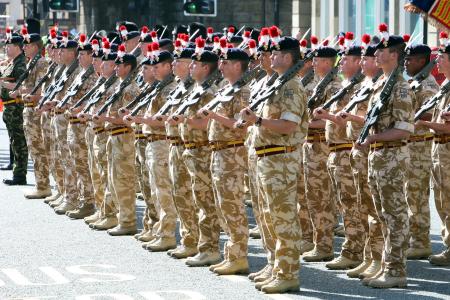 Armed Forces Day is a chance for local people to show their support for the men and women who make up the Armed Forces community: from currently serving troops to Service families, veterans and cadets.  Armed Forces Day takes place on the last Saturday in June but celebrations and activities take place throughout Armed Forces Week which this year runs from Monday 20 June until Sunday 26 June.
Armed Forces Day celebrations in Newcastle begin on Monday 2o June with the raising of the Armed Forces Day flag at the Civic Centre.  This will be followed by a social media campaign to raise awareness of Armed Forces Day including a focus on Reserves Day on Wednesday 22 June.  Our main Armed Forces Day event, Altogether for Armed Forces Day, will take place on Saturday 25 June.
We are still finalising the programme of attractions and activities and we will publish more information soon.  
You can find the most up to date information on armed forces events in Newcastle by joining the Facebook group @ArmedForcesEventsNewcastle
Altogether for Armed Forces Day
A fun filled day that will give local residents the opportunity to get together with our Armed Forces family to celebrate and say thank you for their dedication and service to our city.  Attractions and activities will include military displays, fairground rides, competitions and much more. 
Where 
Nuns Moor,  Newcastle upon Tyne, NE4 5AH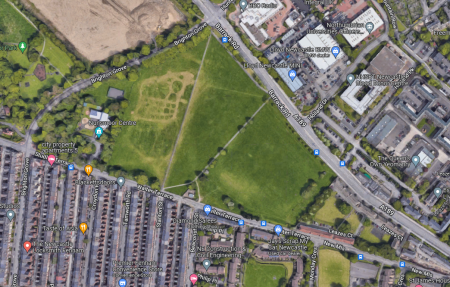 When 
Saturday 25 June 2022
11:00 – Fifth Royal regiment of Fusiliers Band play at Old Eldon Square
11am to 3pm  - Altogether for Armed Forces Day 
What's going on
From military vehicles to fairground rides, from competitions to music there's lots going on to keep everyone entertained.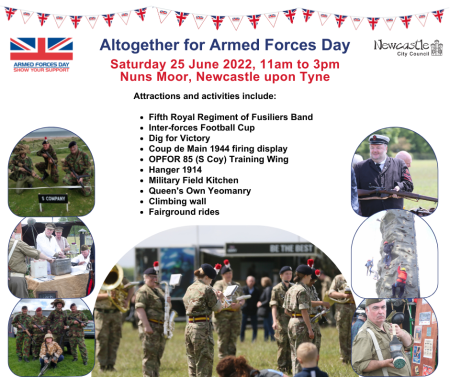 Programme
10:45 - Event opens
11:00 - Dig for Victory - walkabout entertainment
11.15 – Newcastle City Council Choir
11.30 – Inter-forces football cup kicks off (matches will be at various points during the day)
12:30 - Dig for Victory 
13:30 – Coup de Main 1944 - firing display
14:00  - Fifth Royal Regiment of Fusiliers play at Nuns Moor
14:30 – Inter-forces football cup presented to the winners
15:00 – Finish
Attractions
Attractions include military vehicles and displays, Queen's Own Yeomanry, First Aid demonstrations, traditional World War 2 food from the 29th Field Kitchen, OPFOR 85 (S Coy) Training Wing, Hangar 1914, fairground rides, face painting, climbing wall and more
For more information about Armed Forces Day activities email rebecca.bolden@newcastle.gov.uk 
Did you know?
Showing support for the Armed Forces provides a much valued morale boost for the troops and their families. You can find out more about what they are doing at home and around the world by visiting the official sites of the Royal Navy, British Army and Royal Air Force.