Easter Holidays @ Newcastle Libraries
Easter Holidays @ Newcastle Libraries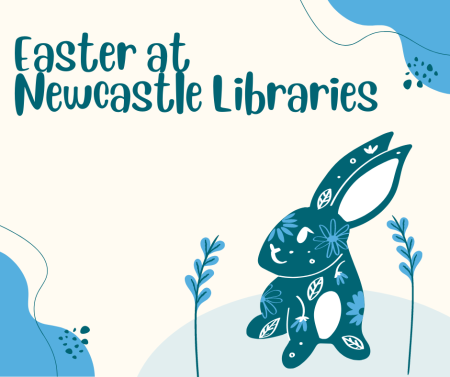 We have a jam packed Easter holiday planned! Easter chick craft sessions will be taking place around the city, and some of our branches will be hosting fun and interactive sessions with Dog's Trust UK on pet safety.
You can also drop by any of our libraries at any time in the school holidays to take part in our Easter hunts (and hopefully win a sweet treat to take home!).
West End Libraries will not be holding special craft sessions, but will have crafting materials available in children's area throughout the holidays.
Our Easter crafts are drop in (parent supervision required). To book a Dog's Trust session, please visit newcastlelibraries.eventbrite.com
We also have a free Family Film Club on Monday 3 April, 10-12pm in the Bewick Hall, City Library. The film will be Peter Rabbit 2. This is a drop in event - feel free to bring your own cinema snacks!
Branch

Dog's Trust

Easter crafts

Blakelaw

Wednesday 5th April, 10am

Wednesday 12th April, 11am

 

City

 

 

Thursday 6th April, 11am

 

Cruddas Park

 

Friday 14th April, 11:30am

 

Tuesday 4th April, 11am

 

Denton Burn

 

Thursday 6th April, 1:30pm

 

Saturday 8th April, 11am

 

East End

 

 

 

Monday 3rd April, 2.30pm

 

Fenham

 

Friday 14th April, 10am

 

Monday 3rd April, 11am

 

Gosforth

 

Tuesday 11th April, 11:30am

 

Tuesday 4th April,  11am

 

High Heaton

 

Tuesday 11th April, 10am

 

Tuesday 4th April, 11am

 

Kenton

 

Friday 14th April, 1:30pm

 

Thursday 6th April, 11am

 

Newburn

 

Tuesday 11th April, 1:30pm

 

Tuesday 4th April, 2pm

 

Outer West

 

 

Thursday 6th April, 11am

 

Walker

 

 

Tuesday 11th April, 3pm

 

West End

 

Monday 3rd April, 10am