Pictures to Share: books for people living with dementia
Pictures to Share: books for people living with dementia
What are Pictures to Share?
At Newcastle Libraries we have a number of Pictures to Share collections available to borrow. These books combine pictures and text for adults in a meaningful way to help stimulate conversation between families, professionals and those with dementia. The books can also be used with stroke sufferers, as well as adults with learning disabilities and people with mental health needs.
How are reading and dementia linked?
A study has shown that reading can help prevent the onset of dementia by 15% , as reported in a BBC Health article.
What titles are available?
Books are available on subjects such as shopping, childhood and travelling. View the full list of titles.
We have individual copies of these titles available at six of our libraries: City, East End, Gosforth, Kenton, Outer West and West End Libraries. All you need is a Newcastle Libraries card and you don't need to live in Newcastle to be able to join. We have sets of books which can be borrowed by homes, day care and dementia centres. If you are interested in borrowing these collections, please contact us on 0191 277 4100.
Comments about the books
"Words can be difficult for people who suffer memory loss and their images and small amount of text in these books enable people who had this difficulty to enjoy books again."
"My mum and her friend, both with dementia, thoroughly enjoyed sharing the books. These books prompt memories and produce much laughter."
"The images are delightful. My mother is entranced by the colours and the quotations, she likes stroking the pages. These books have been a valuable resource."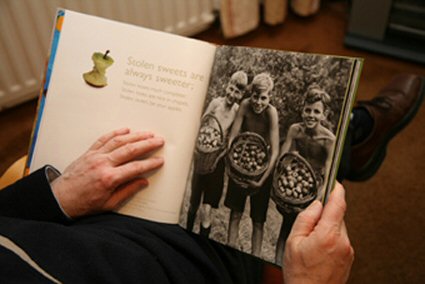 For more information about these beautiful books, including articles of how to use them, as well as links to support resources and materials, please visit Pictures to Share.
Did you know?