16 January 2023
| | 2 min read
North East adult social care staff launch campaign to work in their rewarding field
Staff  from across the North East who work in a variety of adult social care roles are taking part in a recruitment campaign to promote the field as a career offering rewarding and proud work.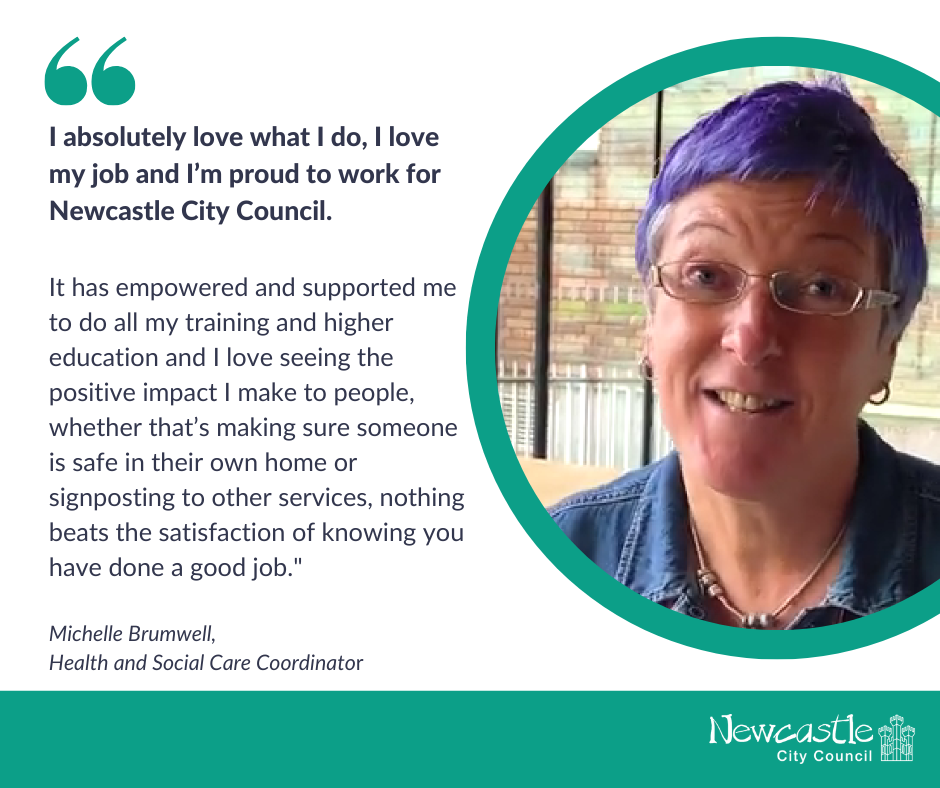 The 'Made with Care North East' campaign brings together all twelve North East local councils to deliver a recruitment and retention campaign aimed at encouraging people to work in adult social care.
Current staff from across the North East have shared their stories and will feature on buses, trains and social media in the region, saying why they are proud to work in adult social care and encouraging others to do the same.
And because the campaign is running in partnership with a national advertising campaign (sponsored by the Department of Health and Social Care), the case  studies from the North East will feature across the whole country.
The Reablement service is just one of our teams looking for new colleagues to join them. This service supports adults to live in their own homes for as long as possible. Michelle Brumwell, a Health and Social Care Coordinator, has worked for Newcastle City Council since 1988. Speaking about her role, she said: "I absolutely love what I do, I love my job and I'm proud to work for Newcastle City Council. It has empowered and supported me to do all my training and higher education and I love seeing the positive impact I make to people, whether that's making sure someone is safe in their own home or signposting to other services, nothing beats the satisfaction of knowing you have done a good job."
We are looking for individuals who want to make a difference and can use social work values throughout their work. If you are committed to building relationships in a person-centred way and are looking to assist people to achieve a fulfilling life, we want to hear from you.
The campaign has been brought to life by the Association of Directors of Adult Social Services North East (ADASS) by working with directors of adult social services and other key staff from the 12 local authorities. Jane Robinson, chair of ADASS North East said: "All 12 directors of adult social services are adamant that the successful recruitment and retention of a dedicated and passionate adult social care workforce is key to being able to support older people and adults with learning disabilities to live independently in their homes and to ensure that care homes attract additional staff.
"As our amazing people have told us, working in adult social care is a career like no other. The difference they make to people's lives on a daily basis is incredible and the rewards they get from that work makes them feel, quite rightly, proud and fulfilled. They are  encouraging anyone who is thinking about working in adult social care to give it a go.
"Adult social care is a great area to work and it offers  flexibility around hours and shift patterns, which can help many people fit in work around their other commitments as well as excellent career progression into a number of different areas such as social work, nursing and leadership and management
"If you are inspired by our stories then please search for 'adult social care jobs' online."