11 February 2020
| | 3 min read
Bigg Market toilets start new life as a wine bar
The Gentlemen's WC, the iconic building that has stood at the heart of the Bigg Market since 1898, has been completely transformed as part of the NE1-led, multi-million pound regeneration of the area.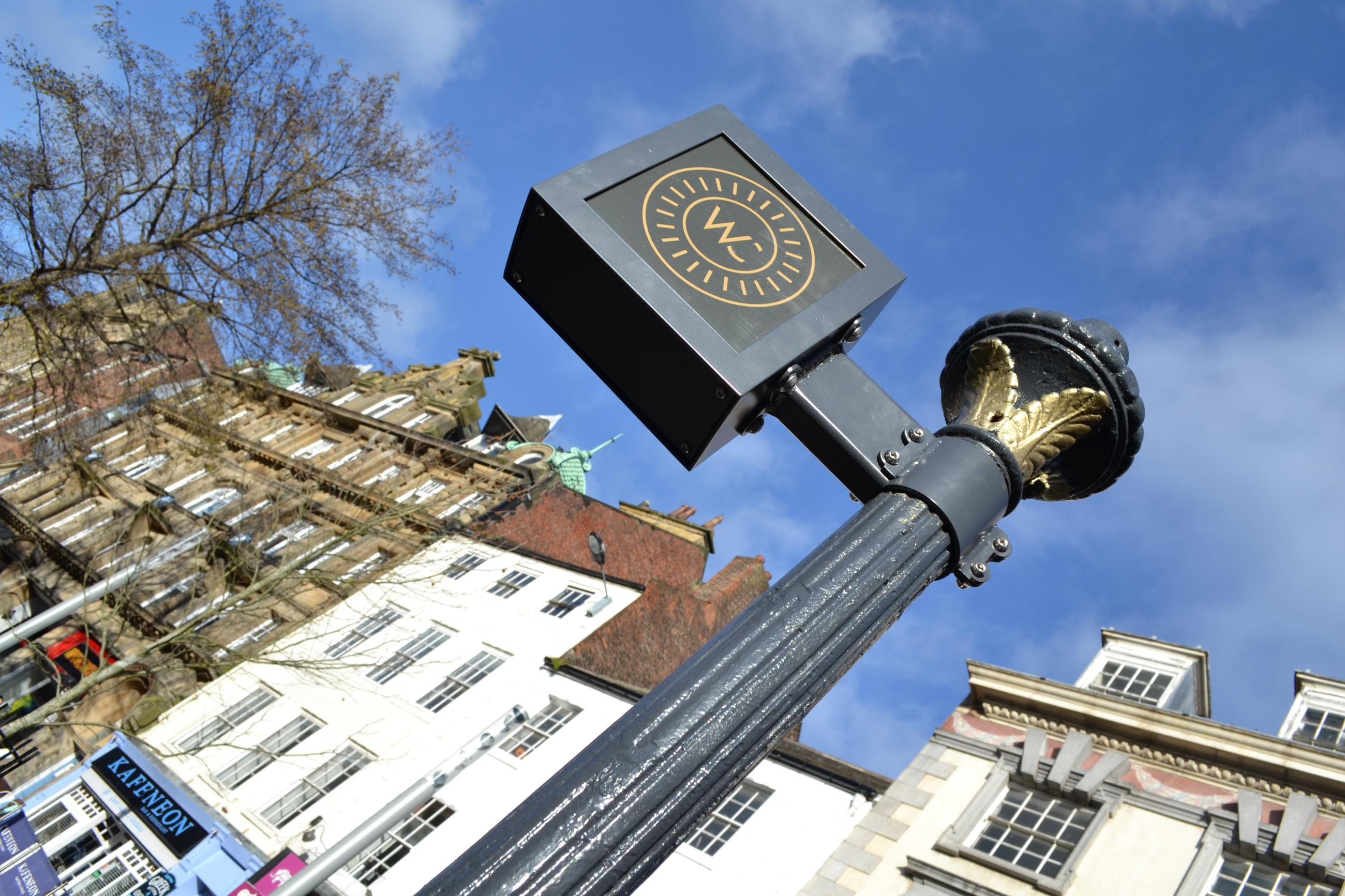 The property was completely refurbished with grant money from the National Lottery Heritage Fund before being handed over to the new tenant, Steve Blair in October 2019.  After only a few months the internal fit-out is now complete and the Bigg Market's newest venue is ready to open its doors as a wine bar on Friday 7th February 2020.
The Bigg Market project team at NE1 who have spearheaded the redevelopment of the area, with support from the National Lottery Heritage fund and Newcastle City Council, were on hand on Thursday 6 February to usher in a new chapter in the Bigg Market's long and illustrious story.
The refurbishment of the iconic structure has been central to NE1's redevelopment of the area and has captured the public's imagination and become a symbolic part of the area's rejuvenation.  NE1 has now completed all the public realm improvements whilst work on the surrounding buildings continues into 2020. 
LIVE: Bigg Market toilet has been transformed! ? Read more about it https://www.newcastle.gov.uk/citylife-news/employment/bigg-market-toilets-start-new-life-wine-bar
Posted by Newcastle City Council on Thursday, 6 February 2020
The subterranean WC building is notable for its striking roof structure projecting out of the ground and like many Victorian buildings was rather impressive, but like much of the surrounding area it fell into disrepair and decline and stopped being used as public toilets in 2012. 
We spoke to Cllr Ged Bell, owner Steve Blair and Alex Slack from NE1 to find out more
Bigg Market toilet transformed into a trendy wine bar
NE1 made the Bigg Market one of its key priorities in 2016 with aspirations to transform the area's fortunes and re-establish it as a destination with a compelling day and night-time economy.  Following a £1.6 million grant from the National Lottery Heritage Fund and contributions from both NE1 and Newcastle City Council.   The Business Improvement District is beginning to see the fruits of its labour as a significant number of vacant properties are occupied once again.  The investment figures for the area could exceed £70 million with significant developments in the pipeline including White Hart Yard, Thomson House and the Malhotra Group project.
The Gentlemen's WC have been central to this regeneration. They are part of the fabric of the Bigg Market and their refurbishment has become a symbol of the transformation of the area.
Grant funding for other Bigg Market projects is still available but applications are needed urgently as 2020 is the final year that funding will be available. Interested parties are encouraged to contact the NE1 Ltd Bigg Market project lead,  alex.slack@newcastlene1ltd.com 
Alex Slack, Bigg Market Project Manager at NE1 said:
"The former Gents WC has always been a key deliverable in this project, it represents total transformation and has always been a symbol of our ambition for the area.  This project has been the most talked about as well as the most challenging of all of the work done to date. It is testament to the collaborative approach taken by NE1 and the City Council that this milestone has been reached.  We have been incredibly fortunate to work with Mawson Kerr architects who have exceeded expectations in their design and we are grateful to our Contractor, Historic Property Restoration, who really delivered on what was at times a complex project"
"We are very excited to see the building reborn and we wish Steve the very best of luck for the new venture."
Newcastle City Council's Cabinet Member for Employment and Culture, Cllr Ged Bell, said: "The Bigg Market toilets have been a famous part of Newcastle since they opened their doors in 1898.
"They could have fallen into complete disrepair had we not decided to put them on the market after cuts in Government grant forced their closure in 2012. We were determined to see them refurbished so they could continue as part of the city's history.
"They are now completely transformed and are starting a new life as a unique wine bar in the heart of a regeneration area. They are a shining example of what can be achieved when we work with our partners the National Lottery Heritage Fund and NE1.
"I wish Steve, our new tenant, all the very best and urge people to come down and have a look. It's amazing."
Steve Blair, owner of WC Newcastle wine bar said:  "It has taken just over three years to transform the derelict WC into a reality, we plan to open doors to the public Friday 7th Feb.
"The history of the 130-year-old toilet building was the first thing that caught my interest and imagination and prompted a quest for inspiration about how other Victorian toilets have been converted into a cocktail/ wine bar or coffee shops across the country.  I was very keen to bring similar ideas I had found from London and other cities back to 'The Capital of the North'.
Like the wider Bigg Market rejuvenation programme and all the work NE1 and the Council has done, we have put tremendous time and effort into reclaiming and restoring many of the building's original features – with hand-formed tiles, Victorian panelling, archived images of Newcastle's history &  revealing of the old and new entrance stonework... We at the WC including staff are all very excited and can't wait to share this homage to Newcastle with the public."
They are now completely transformed and are starting a new life as a unique wine bar in the heart of a regeneration area. They are a shining example of what can be achieved when we work with our partners the National Lottery Heritage Fund and NE1.
Cllr Ged Bell
Cabinet Member for Employment and Culture