27 June 2022
| | 4 min read
Ground-breaking ceremony at Pilgrim's Quarter Newcastle
A major city centre development took a step forward on Friday with an on-site ground-breaking ceremony at Pilgrim's Quarter, Newcastle.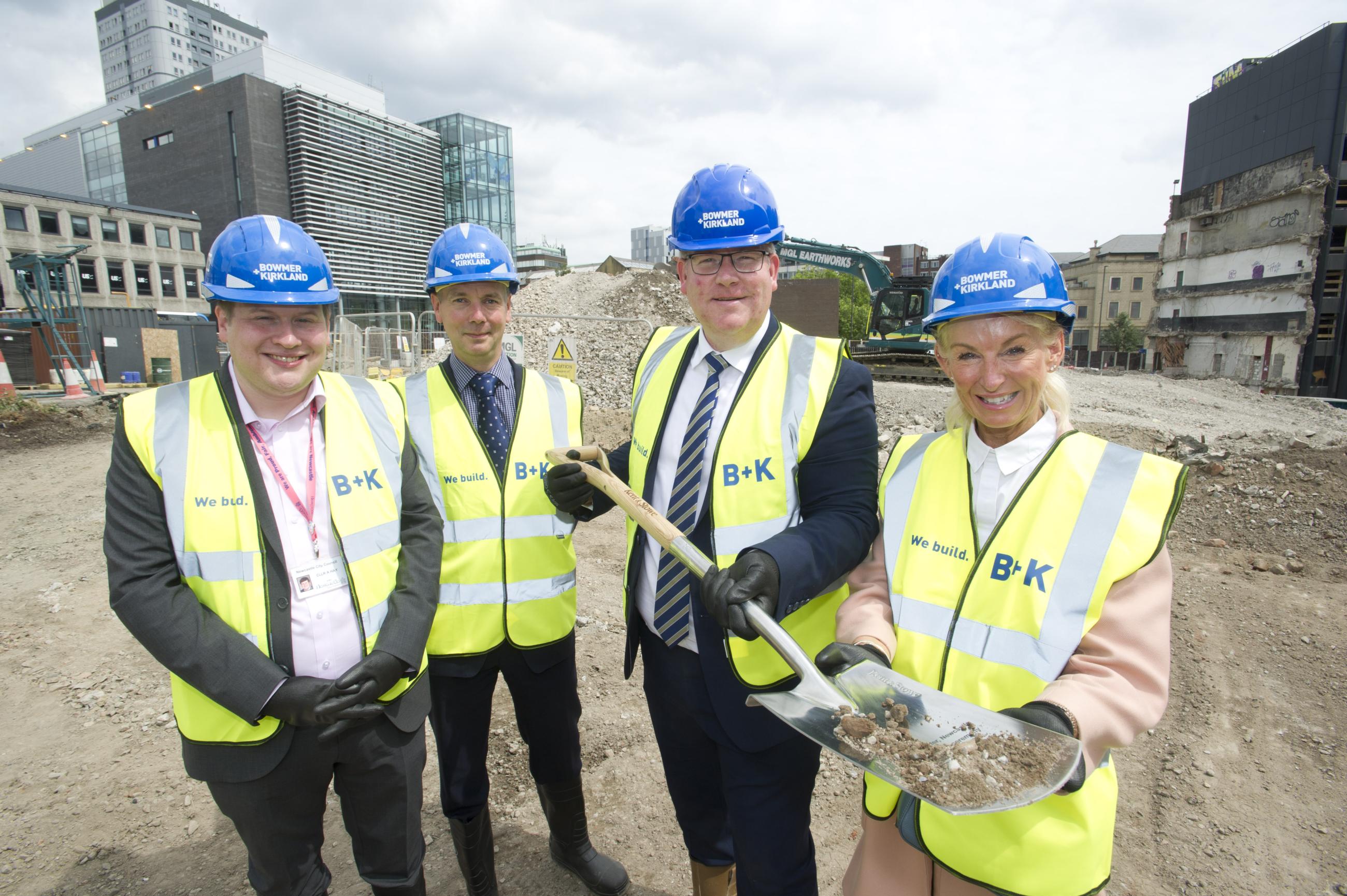 HMRC announced in November last year that Newcastle's Pilgrim's Quarter, part of the Pilgrim Street development, will become the new home for HM Revenue and Customs (HMRC) in the North East. 
Part of the Government Hub network, HMRC's state-of-the-art regional centre will be based at the new development. The regional centre will be the office base for approximately 9,000 full time equivalent HMRC roles.  The Newcastle building will be the largest of HMRC's 14 regional centres, at 43,000m2 and marks an important step in the department's wider transformation agenda.
The realisation of their commitment moved a step closer yesterday at a ground-breaking ceremony on the site attended by representatives from HMRC, Newcastle City Council, developer Reuben Brothers (Newcastle) Limited and their project development team.
Following a presentation of the scheme to senior HMRC stakeholders Marc Gill of HMRC was presented with a ceremonial shovel to break the ground on this massive city centre redevelopment project.
Cllr Alex Hay, Newcastle City Council cabinet member for a Resilient City, said: "We can see with the demolition work that has already taken place on Pilgrim Street exactly how significant a development the Pilgrim's Quarter is for our city centre.
"I'm pleased the next phase is now under way in a development that will help to secure the future of our city for generations to come.
"When complete, the new North-East home for HMRC will house thousands of workers who will contribute to the wider economy of our city and provide a welcome boost to businesses across Newcastle."
Marc Gill, HMRC's Senior leader in Newcastle said: "Today marks a significant milestone in our journey to our new HMRC Regional Centre. Once complete, Pilgrim's Quarter will provide a first-class, modern, digitally enabled workspace for HMRC's largest office – right here in Newcastle. HMRC is extremely proud of its history in the North East and we look forward to continuing to provide thousands of high-quality Government careers in an iconic location in the heart of Newcastle City Centre"
Steve Barclay, Chancellor of the Duchy of Lancaster, said:  "We're committed to levelling up the country and this hub follows recent expansions in the region from the Treasury and DEFRA.
"Moving 9,000 staff into one city centre site will deliver fantastic footfall for local businesses while also making the government property estate greener and more efficient."
The new regional centre will enable HMRC to build a stronger relationship with the local community and become a visible and active contributor to Newcastle and the wider North East region.  
Moving to Pilgrim's Quarter better meets the department's future requirements by providing the size quality of workplace it needs, with better access to transport links that will also support the government's green and sustainability agendas."
Roger Thornton, Head of Property at Motcomb Estates Ltd says on behalf of Reuben Brothers (Newcastle) Ltd: "Now that the euphoria of the HMRC announcement, bringing 9,000 staff into the city centre by 2027 has settled, the priority has been to move on at pace with planning and demolition works for the Pilgrim's Quarter scheme."
The Ryder designed new complex will provide 43,000 m2of new Grade A office space in the heart of the city centre, bringing back footfall which will enhance the vitality and viability of the city's retail core."
Commercial, Town Planning and Project Management services are being provided by Avison Young with Architectural Design by Ryder Architecture and Engineering input by Cundall. The contractor is Bowmer and Kirkland.