25 January 2023
| | 3 min read
Recruitment events set to hit the road in Newcastle
A series of recruitment roadshows will take place in Newcastle in February to help people in different parts of the city discover employment opportunities.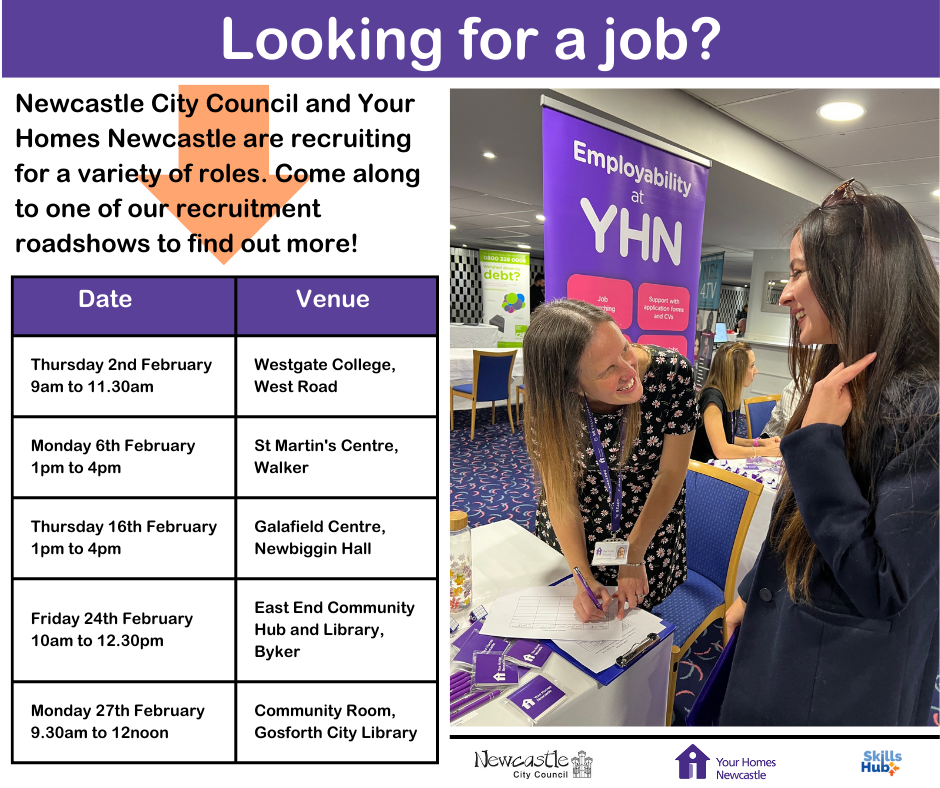 Teams from Newcastle City Council and Your Homes Newcastle (YHN) will be visiting five venues across the city to show different communities the range of jobs on offer at both organisations.
It will include a number of opportunities in a range of essential services, including cleaning, catering and care services, libraries, repairs and construction, customer services, and much more.
The recruitment roadshows take place at:
Westgate College – Thursday 2 February – 9am to 11:30am
St Martin's Centre, Walker – Monday 6 February – 1pm to 4pm
Galafield Centre, Newbiggin Hall - Thursday 16 February – 1pm to 4pm
East End Hub and Library, Shields Road - Friday 24 February – 10am to 12.30pm
Community Room at Gosforth City Library, Monday 27 February – 9.30am to 12pm
As well as providing details about employment opportunities, visitors will also be able to get help with writing a CV, filling out application forms, and preparing for interviews.
Cllr Alex Hay, Newcastle City Council cabinet member for a Resilient City, said: "Organisations across the country are struggling to recruit in a variety of roles, yet we know there are people out there looking for meaningful work.
"We want to make finding employment as accessible as possible, and that's why we're taking these recruitment roadshows out into the communities where people live, instead of asking everyone to come to us.
"Working for Newcastle City Council and YHN gives you the chance to make a difference to the huge numbers of people who rely on us to deliver key services. We have some great opportunities to discover and I'd encourage anyone looking for a new career to attend their nearest roadshow."
Jen Vinton, Group Director of Housing at YHN, said: "We are delighted to be involved in organising these roadshows. They are a great way to showcase the vacancies available in both Your Homes Newcastle and Newcastle City Council which could be on your doorstep and they will also make applying for a job even easier.
"Staff from our Employability Team will be on hand to help you every step of the way through the process.
"I'd urge anyone looking for employment or a new job to come along and speak to staff at a roadshow."
Please be aware that some posts may be filled following earlier events to the one taking place closest to you.
For a full list of roles, more information and to register your attendance, please call 07814 753088 or email employabilityteam@yhn.org.uk.