12 June 2020
| | 3 min read
A welcome return of the Grainger Market
Newcastle's historic Grainger Market is set to open more widely next week with strict social distancing and hygiene measures in place.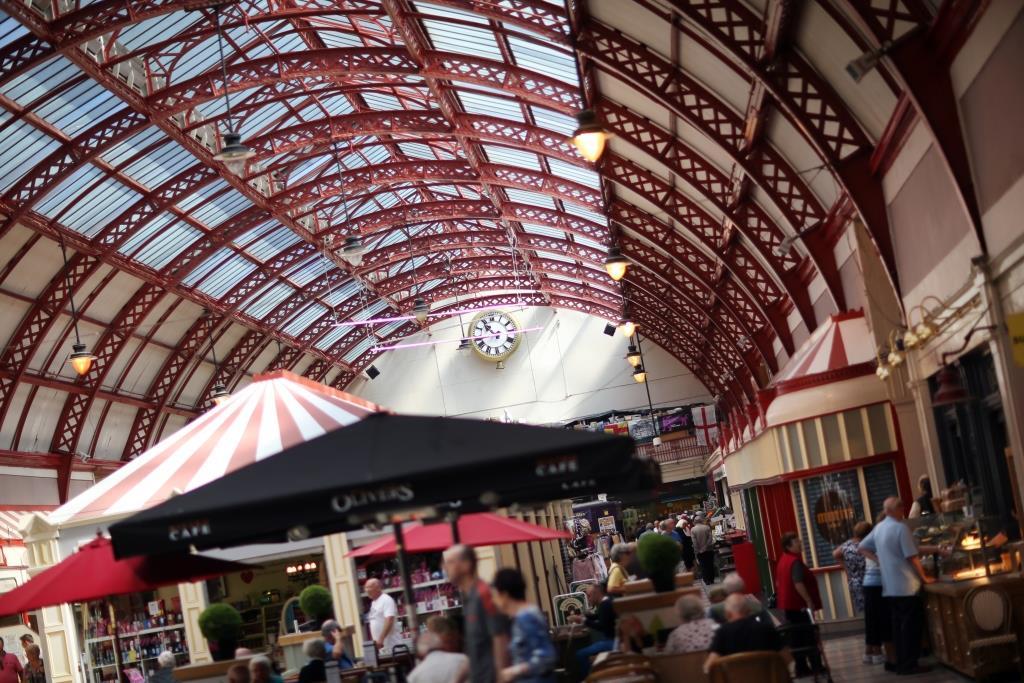 The market and many of its traders have played a huge role in the city's COVID-19 response over the last few months, ensuring a steady flow of fresh produce and establishing the popular and very much relied on delivery service that has helped to keep local people fed.
Following government guidance which allows more non-essential businesses to open from Monday (15 June), many more of the market's traders will be joining other retailers in the city, and open again to the public.
During the shut-down period, 12 businesses classed as essential continued to trade, and from Monday a further 43 businesses have confirmed they will be reopening, with others planning to join them in the coming weeks. Some businesses in the market, such as hairdressers, are still not yet permitted to open.
All traders which plan to open have worked closely with the council to complete robust risk assessments to ensure both staff and customers are safe and that social distancing measures are put in place.
At this early stage of recovery, the message to shoppers is clear. The city centre should not be overwhelmed, and everyone's first option should be to stay and shop in their local neighbourhood.
Those who do come into the city centre should consider doing this when it is likely to be less busy, for example earlier or later in the day and avoiding the traditionally busy lunchtime period.
To help support this, many of the Grainger Market traders are being encouraged to implement an online click and collect service, which the council will help them promote.
As with much of the city centre, the market will be operating a phased approach which it hopes to build on in the coming weeks.
Cllr Ged Bell sets out some of the social distancing measures in the market.
A welcome return of the Grainger Market
Initially only 250 customers will be allowed into the market at any one time. This is around one tenth of the normal number of customers at its busiest times.
This will be reviewed on a regular basis in line any changes in government advice and with feedback from both customers and traders.
A one-way system will operate in the market, with the entrance on Nelson Street and exit on Clayton Street, with marshals on hand to monitor the numbers entering and also providing support customers.
To ensure hygiene, customers will be asked to use the hand sanitizers at the entrance and encouraged to use others located at each individual unit throughout the market. Regular cleaning will also take place and traders will ensure their individual business offers a safe environment for staff and customers.
The council is currently looking at how the toilets in the market might be opened for customers while maintaining the social distancing and strict hygiene standards that are required. There is also an accessible toilet in the Grainger Market that disabled customers can use or customers who need to use baby changing facilities.
Cllr Ged Bell, Cabinet member for Employment and Culture said: "The Grainger Market has been indispensable during this incredibly difficult time for the city, and I would like to whole-heartedly thank everyone who has been involved with this.
"The strength and positivity they have demonstrated is a fantastic reflection on the people of this city.
"And as the city centre begins it recovery, it is very fitting that Britain's favourite Market* is part of this.
"Although I hope that people come back to the market and fully support local businesses, especially after such a challenging time, I do ask that they understand we must take this gradually. The city will take time to get accustomed to the new normal, with the strict social distancing measures that are required, and the Grainger Market is no different.
"These things will take time, but I know that both this city and its people are resilient. I am confident it will soon again be a place where businesses can thrive and provide local people with jobs. And as always, the Grainger Market will be at the heart of this."
For up-to-date information about the Grainger Market, including details of businesses that are trading and opening hours, visit the market's Facebook page - www.facebook.com/GraingerMarketNewcastle/
The Grainger Market has been indispensable during this incredibly difficult time for the city, and I would like to whole-heartedly thank everyone who has been involved with this.
Clle Ged Bell
Cabinet member for Employment and Culture said