Commissioning and Procurement Plan
About Commissioning and Procurement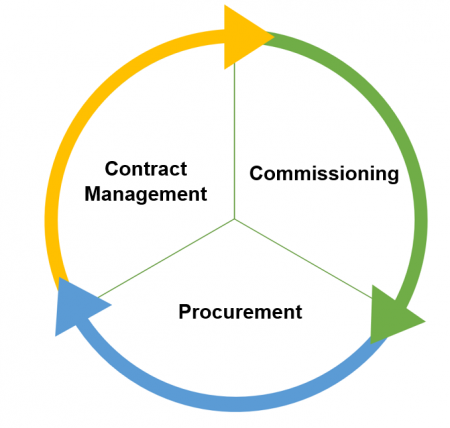 Delivering value
It is our responsibility to deliver the best possible social and financial value for Newcastle through the services we provide. Where external partners deliver contracts on our behalf, we work closely with residents, providers and other key stakeholders to design and secure this value.
During planning and commissioning, we design contracts that meet the needs of residents and build capacity in our local marketplace. During procurement, we purchase our requirements in an equal, fair and transparent way. During active contract management, we make sure that agreed outcomes are being achieved and use our shared learning to inform future commissioning and procurement.
A joined up approach to commissioning and procurement 
Commissioning and procurement is delivered as a single service in Newcastle, serving the whole Council. We have organised our teams  to support our objectives in the most effective way:
Our teams deliver commissioning and procurement, making sure that the ways we plan and buy are joined up for maximum value
Our team is skilled in championing and securing both sides of the 'value coin' – social and financial 
Category management increases efficiency, prevents duplication or siloes of provision and allows multiple outcomes to be considered across integrated services
Commissioning for life course services ensures we think about service design and market shaping from a citizen's perspective
In some cases the commissioning and procurement team takes responsibility for the whole of the commissioning and procurement cycle. In others, the team supports and enables officers across the Council to design, buy and manage contracts themselves.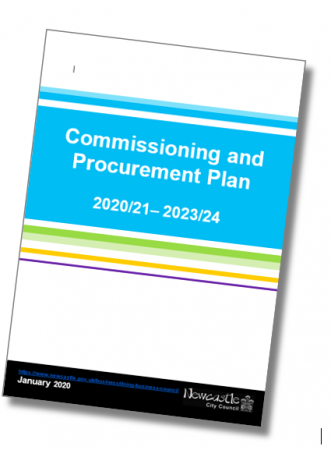 Our Commissioning and Procurement Plan for 2020/21 - 2023/24 is an accessible guide to  how commissioning and procurement in the Council works. You should read this document if you are thinking about providing goods, works or services to the Council.
Planned improvements 
We have three major improvement areas over the life of our Commissioning and Procurement Plan:
Increase the amount and quality of social value we deliver 
Improve the way we use digital technology to make our processes more transparent and accessible
Develop a common standard of category planning that enables us to shape and support local markets
These activities aim to maximise the value of our investment in goods, works and services for the city whilst improving the transparency and experience of the commissioning and procurement cycle.
About goods works and services
Everything that we commission and procure can be divided into three types:
Goods: goods, materials and related services (services needed to provide the goods or materials, such as installation, servicing and maintenance)
Works: building, engineering and other works
Services: all services not already listed above
These terms are commonly used in procurement across the public, private and voluntary sectors and in law.  You will find these terms used throughout the plan.
How we save money
We save money through commissioning and procurement in a number of different ways depending on the nature of what we're buying  and the way in which it is funded. 
Securing efficiencies
We aim to identify all opportunities for efficiency every time we commission or procure.  An efficiency is a saving that we can make without damaging the outcomes that can be achieved by the resulting product or activity.  Efficiencies can be designed by us, drawing on intelligence we gather from the market and stakeholders, or can be identified by providers responding to either competition or negotiation. 
Good examples of efficiencies include shared management arrangements and changing the nature or use of consumables; these efficiencies can be made throughout the supply chain. 
When we think about efficiency opportunities we also consider the work the Council has to do to implement contracts once they are procured and how this can be done in the most efficient way.  For example, where specialist skills in fast moving markets are involved, we may procure 'managed solutions' (where the provider manages implementation and ongoing maintenance) if our market intelligence suggests this will be more cost effective than providing the service ourselves.
We also secure efficiencies by commissioning and procuring collaboratively with other public sector organisations, for example through the North East Procurement Organisation (NEPO).
Competition on price
Efficiencies and other price reductions such as reduction in profit margin can be offered by providers in response to competition. Some contracts, including most goods contracts and some works and services, lend themselves to competition on price, although we are conscious of the risk that unsustainable price reductions can have on supply chain and workforce consequences.  We do not use price only competition for services that look after vulnerable people.
Fee setting
For some services, particularly those which are delivered as part of the Council's statutory duties, we may be obliged to set fee levels for individual units of service.  We do this in consultation with the market and with stakeholders, taking account of market forces, to arrive at reasonable and commercially informed fees that protect service users' interests and meet any specific statutory requirements.  The resulting fees are generally placed within overarching framework contract agreements.
Defining financial envelopes
For some services, often those which are non-statutory, 'block' contracts are offered (contracts where a total annual amount of funding is agreed at the outset, rather than fees being paid case by case). 
Where we are letting block contracts, our consultation with the market and with stakeholders will help inform a decision about the appropriate level of funding that should be committed to achieve positive outcomes in the context of the Council's overall financial position.  Through either competition or negotiation we then secure the maximum value that can be gained from this agreed level of commitment.
Prevention and 'investing to save'
The Council is committed to intervening early to stop problems escalating wherever possible. Given the financial pressures we face, it is important that these opportunities are defined to a level of detail that enables us to predict what level of financial benefit will accrue, in which financial year(s), and in which part of our budget. 
This applies both in relation to new opportunities and where we are recommissioning existing preventative interventions.  We know that cause and effect is difficult to prove absolutely and we are keen to work with providers to establish what data would help create a convincing business case. 
We also recognise that savings arising from Council funded interventions may accrue to other public sector bodies; engaging with social investment routes such as the Cabinet Office Social Impact Bond funds allows us to explore where this may be the case, and begin to make the case to government for system wide 'investment to save'.
Payment by results
A payment by results (PBR) contract requires the Council to pay for an intervention only where the expected outcome has been achieved.  We recognise that providers will expect to be recompensed for the risk involved in this type of arrangement, and that the objective of PBR is to focus resources on achieving the right outcomes, rather than on overall cost saving. 
We have limited current arrangements involving PBR but this is an area for active exploration over the life of this plan, recognising the risks and challenges for providers, particularly smaller organisations. Again, central government opportunities may enable us to de-risk and trial PBR approaches.
Active contract management
Once a contract is let, we work with officers across the Council to ensure effective and active contract management, ensuring that the contract is achieving agreed outcomes in a way that is delivering value for money.
All Council officers have a general duty to ensure that the Council and city residents obtain good value for money under the terms of the Procurement Procedure Rules appended to Financial Regulation 8 within the Newcastle Charter.
About NEPO
The North East Purchasing Organisation (NEPO) is a collaboration between 11 North East local authorities designed to undertake and facilitate collaborative procurement through a 'hub and spoke' arrangement.  The objectives of the collaboration are to deliver financial savings, act as a centre of expertise for the regions procurement profession and to maximise opportunities for providers. 
The NEPO collaboration is politically led by the NEPO Collaborative Sub-Committee, currently chaired by Newcastle City Council's Cabinet Member for Resources, Cllr Veronica Dunn, which provides strategic direction for collaborative procurement across member authority areas. The regional Director of Resources Group (DRG) advises the committee and manages the performance of the regional work programme.
The NEPO member authorities have agreed which areas of commissioning and procurement activity (categories) will benefit from collaborative working.  Procurement in these categories is led either by NEPO directly, or on a hub and spoke basis by the member authorities working on each other's behalf. 
An officer group called Collaboration North East (CNE) advises DRG on technical procurement matters and identifies opportunities for the regional procurement work programme along with potential leads to undertake the work.
Strategic planning and commissioning for social value
In developing an understanding of each market area, we must consider a number of key factors, such as any policy context or legislative frameworks, needs analysis and profiling over time, capacity and assets, finances and funding, stakeholder views, market contexts and critically the outcomes and ambitions we are seeking to achieve.  Securing Social Value is at the heart of this activity and helps to maximise the collective benefit to our communities and residents.
Social value commitment
Read our social value commitment.
How commissioning works
Every commissioning exercise is unique and we develop each process as we gather feedback from stakeholders.  In this section we have described the phases and products that stakeholders can expect to see, in different combinations, in commissioning exercises that we carry out. 
The balance of activity in each part of the commissioning and procurement cycle depends on many factors, including the scale and scope of the expected changes, the complexity of the stakeholder group and available time. 
We will use the terminology in this section consistently, so that stakeholders understand what they can expect from our communications and events in each phase.
Joint commissioning
We seek to work with a range of city partners, including other public sector commissioning organisations.  By working together with other commissioners, we can identify opportunities for social and financial value and improved user experience. Joint commissioning does not necessarily equate to joint procurement; aligning procurement is only one of many ways that we can jointly commission, including:
developing arrangements for packages of service to individual people to be jointly designed, drawing from a range of macro commissioning arrangements;
aligning commissioning plans for the same or complementary requirements (for example, services within a single 'service system')
pooling funding for a particular requirement or service user group, from which either joint procurements or single organisation procurements may draw;
agreeing a shared specification and running a single procurement process which one partner organisation oversees.
These steps may be used in various combinations as appropriate to the requirements.
Initiating commissioning, commissioning intentions and the contract list
There are two primary routes through which we initiate commissioning exercises: due to the ending of an existing contractual arrangement in the context of a continued need; and due to identification of a new requirement.
Alongside this plan we have published our Commissioning Intentions which are refreshed six monthly so that stakeholders can engage in the very early stages of the commissioning design process.  This identifies the most significant commissioning and procurement exercises that we expect to carry out, including when we anticipate beginning a commissioning conversation with the market. 
Our Commissioning Intentions are derived from our wider contract list where you can see details of all existing contracts that we expect to come to an end for the next three years.  The information in the contract list is only ever indicative, but gives a good sense of what is likely to be happening when.
Engagement and consultation
When seeking stakeholder views and contributions we may use either or both engagement or consultation, which are two distinct tasks. Our stakeholder groups may include:
the market, to test whether our proposal is likely to be successfully procured and to check delivery risks;
people who are or will be direct users of the goods, works or services we are commissioning, in a way that is proportionate to the changes they are likely to experience, and that takes their individual needs into account;
relevant workforce and Trade Union representatives
broader city and community stakeholders, to check for broader risks or issues.
Engagement
At the engagement stage, we will be talking to stakeholders about our likely future requirements and how we should define them.  At this stage there is no formed proposal, and stakeholders are asked to contribute their expertise and ideas, for example in response to the Social Value framework described above.  We may support this process by bringing forward relevant information about existing arrangements. Engagement can take place digitally or face to face, depending on what is most appropriate and proportionate to the requirements.
Within the broad phase of engagement, we do particular work to engage the market – the organisations which are or which may become our providers.  This helps us to understand where we have a strong market able to innovate, and also where markets may be less developed and need some further support. 
In some areas, particularly in adult social care, we are statutorily obliged to take steps to ensure market sustainability.  In other areas, whilst we may not have a duty set down in law, it is nonetheless important that we respond to providers' interests and concerns, balancing these with the Council's drivers and priorities, so that the goods, works and services that we require can be procured successfully and sustainably. 
Consultation
At the consultation stage we have developed one or more formed proposals and stakeholders are asked to consider the impact of these particular ideas. 
The format of a consultation proposal will vary depending on the subject matter and audience.  Where appropriate, it will include an Equality Impact and Needs Assessment (EINA) to formally capture feedback on equality and diversity implications.  The Council combines the legal requirements of an EINA within a broader range of impact factors within its standard Integrated Impact Assessment (IIA).
The engagement and consultation process is iterative in nature; consultation may lead to further engagement and consultation, and we may undertake several exercises under each phase to inform commissioning activity where this is required.
Category planning and market position statements
We approach our strategic planning in category areas. We have developed a standard format for capturing and communicating externally our understanding of a category area, called a Market Position Statement (MPS).  The MPS sets out the Council's vision and objectives for a category area based upon key information, such as:
Policy and partnership context – including any legislative frameworks, statutory duties and /or key national and local policy drivers which must be taken into account
Needs analysis – for example population projections, demographics, prevalence or other needs analysis and evidence and how this is likely to change over time.  This may include, for example, what the Newcastle Future Needs Assessment tells us about the wellbeing and health needs of our residents and communities
Finances and funding – including opportunities to join up resources and activity with other partners to maximise our impact
Stakeholder feedback – what practitioners, service users, residents and partners are telling us
Effectiveness of current provision – information on current provision performance
Market analysis – the shape of the market and how is this likely to change, including any particular strengths weaknesses or gaps
Outcomes – what outcomes we are seeking to achieve, how we want to achieve them and how will we know we are achieving our goals
Priorities and risks – our commissioning priorities and how we plan to implement them and manage any risks
We will often begin developing a MPS in the engagement phase and continue to develop and refine it through consultation. The MPS format is in use across the categories covered by our Social Care and Inclusion teams, and we are developing our use of this tool across Trading and Resources and Collaboration.
You can read our MPS and Category Plans here.
Opportunities for co-production
Co-production is not the same as engagement or consultation; it is a process of joint development and design that, crucially, is based on and grows out of an equal partnership between stakeholders.  Experts acknowledge that true co-production is very difficult to achieve, both because true equality of partnership is hard to create and maintain and because the process of co-production places additional time and capacity burdens on all parties involved.  Despite these challenges, we are keen to work with partners to develop opportunities for true co-production where it is viable and appropriate.
If you are interested in co-production you may also want to read our joint Compact with the voluntary community and social enterprise sector.
Establishing a commissioning model
When consultation ends, we consider all the feedback to inform our final plan – our 'commissioning model'.  For significant or complex activities that are identified in our Commissioning Intentions, we may use a Delegated Decision to formalise the choice of the commissioning model prior to any necessary procurement exercise, and to communicate this Decision to all stakeholders. 
For smaller or more straightforward commissioning activities, the commissioning model will normally be formalised within the procurement phase. 
Procurement principles
Procurement is the process of purchasing the requirements that we have identified in the commissioning stage. When conducting a procurement exercise we will comply with any relevant legal requirements as well as the Council's own Financial Regulations.  Where there is a requirement to undertake a formal procurement process we will also seek to balance the essential and interrelated principles below.
Transparency
Transparency is a key principle within procurement law.  To ensure transparency we will set out our requirements and what is expected of a bidder in advance of any procurement exercise. This will include the criteria against which we will score bids, and how the resulting scores will be used to make a procurement Decision.  We will also respond to a broader interpretation of what transparency means by making information about procurement decisions that is not commercially sensitive available for public examination.
Fairness
Fairness is a key principle within procurement law. Among other things it means we will only score bids based on criteria that are related to the subject matter of the contract. Our Social value opportunity identification process will help to inform us and structure these criteria.  This resonates with the broader principle of 'Fair Play' one of the four principles of fairness identified by the Newcastle Fairness Commission, through which we commit to ensuring fair process.
Equal treatment
Equal treatment has a particular meaning within procurement law.  It means that all bidders must be given the same opportunity to bid, have access to the same information from us, and have their bids evaluated against the same criteria in a non-discriminatory way.  Additionally, we recognise our legal duty to ensure equal treatment of individuals under the Equality Act 2010, and we will use contractual levers to help ensure that these principles are met throughout our supply chain.  These meanings fit with the broader principle of ensuring everyone has a 'Fair Go', one of the four principles of fairness identified by the Newcastle Fairness Commission. 
Proportionality
We recognise the importance of proportionality, and are aware that deciding what is proportionate depends on our having an understanding of all partners' needs and expectations, as well as other relevant factors.
Commerciality
We recognise that our commissioning and procurement activity can only be effective if we take into account the market forces and other commercial parameters within which provider partners are working.  These include national legislation and also market standards, common practice and factors that affect or create competitive advantage.  Operating with a commercial mind-set is one of the ten 'Big Ideas' at the heart of the way the Council seeks to work.
All Council officers have a general duty to ensure that the Council obtains good value for money, and that competition is true and fair without discrimination, is transparent and free of corruption under the terms of the Procurement Procedure Rules appended to Financial Regulation 8 within the Newcastle Charter.
The law and the Council's rules
Commissioning and procurement in the Council is carried out in compliance with both relevant legal obligations and the Council's own Financial Regulations, particularly the Procurement Procedure rules appended to Financial Regulation 8. The Council's Regulations and Rules are determined by the Council itself in the context of the law, and which sets out how officers must act.
EU thresholds and the Council's rules on competitive procurement
The Public Contracts Regulations require that where set threshold values for goods, works and services contracts are exceeded, the Council must competitively tender via an OJEU  compliant procurement process.  A further threshold for Social and Other Specific Services was introduced to the Public Contracts Regulation in February 2015, following a comprehensive legislative review.  Services not covered by the Social and Other Specific Services strand will adhere to the general service threshold.
The current EU procurement thresholds are:
Goods with a total estimated value of £181,302 or more
Works with a total estimated value of £4,551,413 or more
Services (general) with a total estimated value of £181,302 or more
Services (social) with a total estimate value of £615,278
These values apply from 1 January 2016 until they are next refreshed and any update will be published within the Council's Procurement Procedure Rules.  Note that the values quoted represent the expected lifetime (i.e. multi-year where applicable) value of the contract, including any options to extend.
The Council's own Rules say that, unless there are good reasons to use the negotiated procurement route, we will normally procure competitively, if the lifetime value of the contract is more than £100,000. 
About contracts, including options to extend
There are many possible ways to structure the requirements of a contract.  Our Social Value Opportunity Identification framework and the findings of our engagement and consultation commissioning phases helps us to define reasons for a particular contract structure - for example, whether contracts should include Lots (subdivisions within the contract which can be awarded to different organisations).
The length of time that a contract runs is a key question.  This is influenced by the availability and certainty of funding, intelligence about what is likely to be acceptable to the market and therefore result in acceptable bids, and our expectation of the timing, value and scope of likely future changes. 
A contract will always have an initial term, and it may also include one or more options to extend.  The total length of any options should normally not exceed the length of the initial term.  Including and using options helps us to avoid running procurement processes which are unlikely to add value.  Factors that might influence a decision not to take up an available option to extend include stakeholder dissatisfaction with delivery or outcomes which is not serious enough to warrant a contract default, changes in availability of funding, availability of new information that supports a change in the commissioning model or changes in the context within which the contract is operating.
Procurement readiness in the local market
Our Social Value Commitment includes a focus on supporting our local marketplace.  Ensuring that local organisations are 'procurement ready' not only helps to create the conditions for a thriving and sustainable market place from which high quality goods, works and services can be drawn, but is also a key part of the local economic development of the city.
In recognition of this, the Council's Business and Intellectual Property Centre, along with NEPO and B2B North, currently deliver the NEPO Business Club, a programme of procurement support events aimed at increasing the competitiveness of local organisations, including tender readiness. Most of these events are free to attend and details are available on the BIPC website or the NEPO portal.
These sessions and networks play an important part in supporting local market readiness, however we recognise that each market has different characteristics, and that this type of support may work better for some markets than others. That is why, as part of our aim to support local markets to innovate and grow, we will be reviewing the effectiveness of procurement readiness interventions by category and developing a tailored improvement plan.
Procurement routes
Where we have the skills and capacity to do so it is our policy to deliver services directly. In these cases, there is no procurement process and arrangements are simply made for the relevant part of the Council to deliver the requirements.
This section looks in detail at the different ways we can procure goods, works and services right across our business, and when these choices may apply.
Use of existing contracts and framework agreements
If we have established that we cannot provide the requirements directly, we first consider whether we have an existing contractual arrangement through which we can secure them.  Council officers must check whether there is a relevant existing arrangement prior to embarking on a procurement exercise.
Council officers can access information about existing arrangements through our intranet page 'Buy It' (internal link only), and all stakeholders can view this information on the NEPO portal.
Negotiating with a single provider beneath the EU thresholds
Negotiation means that we talk to a particular organisation to agree that they will deliver the goods, works or services that we need and at what price.  If we negotiate, we do not open up the opportunity to competition and therefore do not advertise these opportunities until they are awarded. Such negotiation is only permitted where it is in the best interests of the Council to do so and where the total value of the contract over its duration including any potential extensions does not exceed the relevant EU threshold.  These values are set every two years and can be found in the Procurement Procedure Rules within the Newcastle Charter.  We recognise that there are some situations where negotiating with either a new or an existing provider is in the best interests of the Council and city residents. 
We report on all negotiations with lifetime values over £25,000 to the Council's Directorate Management Teams responsible for them annually so that senior officers can check that negotiation is being used appropriately and effectively.
Selection based on best price using 'Quick Quotes'
For contracts where the lifetime value is up to £100,000 we may select on price only.  This route is suitable where the way that the contract is delivered is fairly standard or the quality requirements have been incorporated fully into the specification.  If we choose to use this route, we use our online Quick Quotes module on the NEPO electronic tendering portal to select four possible providers from those registered.  Our Quick Quote rules mean that three of these four will be local providers if there are enough local providers registered within the category on the system.
Selection based on price and quality using quotations
For contracts where the lifetime value is up to £100,000 but where the nature of the contract means we need to test both quality / method of delivery and price, we may seek quotations from at least three providers.
Selection based on price and quality using competitive tender routes
Competitive tender means we describe our requirements to the market, and invite potential providers to bid for the opportunity. 
You can read more about the various different forms that a competitive tender process can take, and the timescales involved, in appendix 4.
Framework agreements and sourcing from existing local, regional and national arrangements
Sometimes we or other public sector bodies may competitively procure framework agreements.  These are agreements between one or more commissioners and one or more providers which sets out the terms on which future contracts will be awarded. The terms of a framework agreement typically set the price and the quality of the relevant goods, works or services, and the framework agreement lasts for a defined period of time. The initial procurement will appoint providers to the framework agreement and individual contracts may be awarded to these providers, usually via a further 'mini competition'.
We regularly procure and re-procure Council framework agreements for goods, works and services in many areas of our business. Procurement Sourcing Officers within the Commissioning and Procurement Team support officers across the Council to carry out call-off processes across all category areas to enable them to award work to providers under our framework agreements.
You can find details of the Council's current framework agreements in our contracts list, or on the NEPO website here.
In addition, the Council may be able to award work under framework agreements that have been procured by NEPO and its member authorities, or by other public sector organisations if these were stated as open for such use when originally procured.  Cabinet must be asked to make a decision to 'opt-in' to the NEPO arrangements or to use any other particular framework agreement. We can then award work to a provider in accordance to the rules of the specific framework agreement, which often involves further competition. 
There may be occasions where direct award to a single provider on a framework agreement is allowed within the rules of a specific framework; in this case, officers must ensure they follow the details set out in the relevant Cabinet opt in decision.
Grant giving
The Council may give grants to organisations to enable them to achieve particular objectives.  A significant number of Council grants are awarded through the Newcastle Fund.  Criteria for grant giving through the fund are set and reviewed regularly, and are outside the scope of this document.
Funding provided under grant giving arrangements, as distinct from under contract, is a gift of funds for a specified purpose.  The specified activities are defined by the recipient in their application, rather than the funder.  The assumption underlying a grant is that it is subsidising an activity that the funder considers necessary, but which the recipient does not otherwise have the resources to deliver on a self-sustaining basis at the required standard. 
How procurement works internally: the procurement gateways
This section is about the process that Council officers go through during a procurement process.  These steps build on the new commissioning gateway process that is described in part one.
Once we have decided that a formal procurement is needed, there are four main gateways (check points) during the process.
Advertising, including use of the NEPO portal
Where we are inviting tenders (for open opportunities over £25,000), these are advertised on the NEPO electronic tendering portal. The e-Tendering system used by NEPO and the eleven North East local authorities ensures we carry out a fair and transparent, auditable online procurement process, whilst offering providers easy access to new contract opportunities. You can access the site here
 
On the site, you will be able to see a list of contract opportunities which is dynamically updated as new opportunities become live from NEPO and the local authorities. You will also be able to see when these opportunities are awarded by accessing the public contract register. This information is also updated on central Government's national site Contract Finder where you can search for contract opportunities from across the country.
Our Quick Quotes system is also held within the NEPO tender portal but contract opportunities using the Quick Quote facility can't be seen publicly by the market as they are not fully advised. The system invites a set number of providers to bid.
Dependent upon the procurement route that is selected, different minimum timescales will apply for the advertising of our tender opportunities. Typically these will be:
Quick Quotes – 3 to 7 days
Requests for Quote – 14 days
Tenders below the European threshold – 21 days
Tenders above the European threshold – 35 days (including OJEU dispatch)
You can find out more about our procurement routes in appendix 4.
For contracts over the European threshold, we advertise contract opportunities in the Official Journal of the European Union (OJEU) in line with the Public Contracts Regulations.
To be able to bid for these contract opportunities, you will need to register your organisation on the NEPO electronic tendering portal within the categories of interest to you. You will then automatically receive notifications about any new contract opportunities, and you can then register your interest in any of the contract opportunities so that you can view and download the procurement documents and submit a bid online.
There are a range of help guides and video tutorials provided in the portal site's help centre, including:
How to register
Searching for opportunities
How to complete a response
Help and support specifically around Newcastle City Council, can be obtained by contacting our internal Systems Team. The team provides support and guidance for all the Councils procurement systems.
Evaluation
Once the submission deadline has passed for a contract opportunity, bids are downloaded by the Council via the NEPO tender portal. The submissions then go through a process of evaluation to determine the intended winning provider(s) for the contract.
Evaluation is undertaken by a panel, normally made up of operational/ technical experts and contract stakeholders who will score the submissions, and a facilitator from the Commissioning and Procurement Team (for contracts over £25,000) who ensures that a fair and objective process is undertaken and that the panel evaluates in line with the award criteria set out in the procurement documentation.
Our rules mean that we cannot generally hand over decision making to third parties as the Council must be accountable for the contracts that it puts in place. However, we try to create opportunities for relevant groups to participate in an advisory capacity in procurement exercises that we undertake, particularly where there are small groups of individuals who will be personally and directly affected by a procurement decision (for instance tenants living in a particular building where a service is to be provided).
All panel members, whether internal or external to the Council, have a responsibility to score the submissions fairly and objectively against the award criteria published as part of the contract opportunity.  Any conflicts of interest  are declared at the start of the process, and any significant conflicts of interest would preclude a panel member from being part of the panel – this will be determined by the Commissioning and Procurement Team facilitator on a case by case basis in conjunction with legal services.
Scores and comments are recorded within an evaluation matrix which is maintained by the Commissioning and Procurement Team facilitator and will be kept as the single record of the evaluation in order to provide final scores and feedback.
You can find out more about the panel roles and responsibilities in appendix 5.
Once the evaluation is complete, appropriate approvals will be sought to enter into the contract. Our intention to award notifications will be sent to providers and if applicable, adhere to an appropriate standstill period.  Following any required standstill period, the Council will communicate the final award with providers.
Transition and contract initiation
Contract initiation can often involve a period of transition and operational set-up for new providers which we aim to allow for within our procurement timeframes. This is particularly the case where system and/ or staff transfer is involved.
Generally (TUPE) arrangements between third parties are a matter for those organisations and will be subject to the provisions of the Transfer of Undertakings (Protection of Employment) Regulations 2006.  We look to include protections for employees and workers within contracts where permissible, and allow sufficient time between contract award and commencement to enable organisations to undertake their TUPE responsibilities properly.  However, we cannot be involved in the negotiation of TUPE arrangements between third parties.
Contract management
Contract management is the process by which the Council checks that it is gaining value for money from its third party spending, and assures itself that contract requirements are being met. It provides the Council with an opportunity for dialogue with the provider to spot any issues or opportunities in a timely way, helps to assure the Council that contracts are being delivered safely and to the expected quality standards, and also provides a mechanism to check that the contract is delivering outcomes for people in the city.
For all of these reasons contract management is a critical part of the commissioning and procurement cycle. To be able to manage contracts effectively, it is important that certain decisions about our requirements are made during the commissioning phase, that these requirements are made clear during procurement phase, and that both the Council's contract manager and the provider work to meet these standards.
The key requirements for effective contract management are to:
Ensure there is an identified contract manager: this may be the Commissioning and Procurement Team (generally where contracts are high risk and/ or business critical or where we have entered into a collaborative contract on behalf of NEPO and the member authorities), or it could be a contract manager elsewhere within the Council. In the case of collaboratively procured framework agreements, there will generally also be a framework manager responsible for the framework on behalf of the collaboration
Determine level of risk: contract managers should undertake a risk assessment which will determine the intensity with which a contract must be managed in order to provide adequate assurance to the Council. This assessment takes account of important factors such as financial value, whether a contract is business critical, and the nature of the contract delivery. This may however differ if it is a collaborative contract as the risk will be determined by the collaboration
Determine a proportionate contract management approach: the contract manager will then determine the appropriate level of performance and quality management for the contract, being guided by our contract management matrix which sets out a clear and proportionate set of contract management criteria, including the frequency and tools which should be applied
Clarify expectations with the provider: it is important to be clear with the provider about what the contract management arrangements will be, including the outcome of the risk assessment, the reporting requirements, reporting format, and frequency (including the criteria and frequency of any quality monitoring which may apply)
Active contract management throughout the life of the contract: once the expectations are set during the commissioning and procurement phases, and both the Council and provider are clear on their roles and responsibilities, the Council contract manager should ensure that the contract is actively managed in line with the guidelines as agreed. This includes acting in a timely way on any intelligence which arises throughout the life of the contract which may trigger a change to contract management arrangements, e.g. a new risk assessment, additional monitoring, or escalation procedures
The role of the provider
As recipients of public funds, providers who enter into a contract with the Council have an important role within the process to help ensure that our contracts deliver value for money outcomes, and that opportunities and threats to contract delivery are identified. Providers should be familiar with the stages below and work actively in partnership with the Council on these stages throughout the life of the contract:
Risk assessment: the contract being delivered will be subject to a risk assessment which will determine the appropriate level and frequency of contract management required. The future contract management expectations will be determined by the nature of the contract being delivered, for example, you can expect more intensive and frequent contract management if you are delivering a high risk service to vulnerable people than if you are delivering low risk goods to office buildings. The contract manager will let you know the outcome of your risk assessment and what this means for the contract management expectations of your contract
Performance reporting: regardless of the level of risk within the contract, there will be some performance reporting requirements within the contract to assure the Council that important quality and value for money criteria are being met, and to help both parties to identify any important trends which may emerge during the contract. In some cases, this performance reporting may be linked to payment (normally alongside quality monitoring) – if this is the case, this will be clear within the payment terms of your contract
Quality monitoring: if you are providing a 'high risk' service on behalf of the Council (generally those that are business critical and/ or work directly with vulnerable groups) you can expect some level of quality monitoring via a quality monitoring visit. The criteria for, and frequency of, this quality monitoring will be made clear to you at the start of your contract
Council governance of commissioning and procurement related Decisions
This section is about the formal Decisions that the Council may make relating to commissioning or procurement: when they are required and who can make them.  The basis of Decision making is the Newcastle Charter, the terms of which always take precedence; the simplified explanation below brings together Cabinet Decision making financial thresholds with the EU threshold values, and sets out in each case what type of Decision is required at each of three key process points: establishing the commissioning model; determining the procurement route (negotiation or competition); and contract award. 
Delegated Officer Decisions can only be made by officers in a limited number of senior posts within the Council structure.  A full list of the Delegated Officer posts at the time of writing is at Appendix 6. 
Delegated Officers may make Decisions up to defined thresholds which depend on whether the contract is for goods, works or services, and must consult the relevant Cabinet Member(s) before doing so. 
Some Delegated Officer decisions are key decisions, based on a combination of factors including financial value.  The intention to make a key Delegated Officer decision is published ahead of time on the Council's Forward Plan held by Democratic Services.  Key Delegated Officer decisions are subject to a democratic standstill period of five days to allow for call in by Council Members or Scrutiny Committee before they can be actioned.
Delegated Officers may also be specifically delegated by Cabinet to make a Decision subsequent to a Cabinet Decsion.  Where a subsequent decision has been delegated to a Delegated Officer, this will be recorded in the Cabinet report, and so the intention to make this decision is not published again on the Council's Forward Plan. 
All delegated decisions, whether subsequent to Cabinet or not, are made based on formal delegated decision reports which are then made publically available on our delegated decisions schedule, except where an appropriate exemption applies (for example in the case of commercial sensitivity.) 
Cabinet decisions are made at Business Cabinet meetings based on formal Cabinet reports.  Where possible, these reports are made public ahead of the Cabinet meeting, although in relation to procurement a substantial number contain commercially sensitive information, and are therefore dealt with in the confidential part of the Cabinet agenda after the exclusion of press and public.  All Cabinet decisions are subject to a formal standstill period of five days to allow for call in by Council Members or Scrutiny Committee before they can be actioned. 
Cabinet Member decisions are made by individual Cabinet Members within their portfolio area.  There are no standard commissioning and procurement related decisions which must be made by individual Members.  However, if the circumstances and interests of the Council require it, Cabinet may agree in principle with a matter presented to it, and may delegate the formal decision to be taken at a later date by a Cabinet Member.  If such a delegation takes place, it will generally be recommended in the Cabinet paper, or otherwise will appear in the Cabinet minutes.  All decisions made by individual Cabinet Members are key decisions irrespective of value, and are therefore subject to a five day democratic standstill period.
Authorisation to Negotiate (ATN) is given by a Delegated Officer up to £100,000 lifetime contract value, and with additional authorisation by the Director of Resources over £100,000.  Over £100,000 the relevant Cabinet Member is also consulted. ATNs record legal services and the Commissioning and Procurement Team's confirmation that the negotiation approach is permissible and in the best interests of the Council.
Standstill periods and 'call in' there are two reasons for Standstill periods in relation to commissioning and procurement activities: a democratic standstill period driven by the Newcastle Charter, which allows for Cabinet or officer decisions to be called in for scrutiny by Council Members, and a procurement standstill period, driven by procurement law or the Council's Commissioning and Procurement Procedure Rules. 
If a procurement standstill applies, this period commences only after the democratic standstill periods cited above have expired and if the decision has not been called in.
Once the democratic standstill period has expired and if the decision has not been called in, we can begin the process of awarding the contract.  Starting on the day that the bidders are notified whether or not their tender has been successful and the reasons for this, a procurement standstill period of 10 calendar days applies - also referred to ads the Alcatel period.  During this time unsuccessful bidders may object to the award of contract. 
Procurement Standstill periods can be either voluntary (determined by the Council's own rules) or mandatory (determined in law).
Commissioning and Procurement Plan 2020/21 - 2023/24
A new Commissioning and Procurement Plan is scheduled for Cabinet in January 2020.  The links below are to the draft Plan and its appendices.
The Cabinet Report is available via Democratic Services.
/sites/default/files/business/C&P Plan Drafts 202021/2. C&P Plan 2020 with updated EU thresholds 2.pdf
Did you know?
During 2018-19:
67% of the Council's spend on contracts was with Small and Medium Enterprises (SMEs)
 
63% of the Council's spend on contracts was with local businesses in the North East
 
£45million (15%) of the Council's spend on contracts and grants was with Voluntary and Community Sector (VCS) organisations.