Doorstep Crime and No Cold Calling Zones
Doorstep Crime and No Cold Calling Zones
Doorstep crime is when rogue traders knock at your door and pressure you into buying something or signing up for a service, they may do this by cold calling via the telephone or in a face-to-face visit. If you are contacted by such traders or are aware of any operating in your residential area, if it is safe to do so please contact us with any information you have about the traders, or if necessary, Northumbria Police.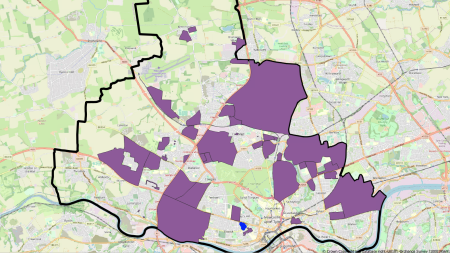 Not all traders are dishonest, but there are things you can do to make sure that you don't become a victim;
Identify who is calling by insisting on seeing and checking their identification

If you are suspicious or have concerns do not open your door at all and at all times, use a door chain or spy hole

Don't be rushed into agreeing to buy

Take your time to make a decision and one which is the right one for you

Never hand money up front.
Nottingham Knockers
We are aware of cold callers going door to door selling items across Newcastle – so called "Nottingham Knockers".
These people may often offer household cleaning products for sale from rucksacks or suitcases.
Please be vigilant, do not purchase anything and never hand over cash on your doorstep.

If you feel threatened, close the door and contact Northumbria Police.

Always ensure your property is fully secure.

The items offered are often of low quality and advertised at inflated prices.

The "sales pitches" can also be part of a wider operation to identify burglary targets.

Those involved may claim to be part of rehabilitation schemes and could produce ID cards – these are entirely false and have no legal bearing.

Never buy anything from these people and report them to police.
Visit the Northumbria Police website or call 101.
Financial Abuse
The Newcastle Safeguarding Adults Board on the 15 November 2021 launched guidance on identifying, preventing and responding to financial abuse.
Financial abuse can be wide-ranging and complex. It can be difficult to identify and knowing where to go for help might be confusing for both the person at risk and those supporting them. The guidance aims to help with this.
This guidance is primarily in relation to adults with care and support needs and is intended to complement the over-arching Newcastle Safeguarding Adults Board multi-agency safeguarding adults policy and procedures.  However, many of the services, support and information detailed are universal and are available to all adults.
Over the last five years, financial abuse has accounted for between 16-19% of all Section 42 enquiries undertaken in Newcastle. Financial abuse can have a serious impact upon a person, not only on their money or property but also on their overall wellbeing, physical and mental health.
Government's Fraud Strategy 
On the 3 May 2023 the Government announced its new Fraud Strategy which set out a plan to stop fraud at source and pursue those responsible wherever they are in the world, reducing fraud by 10% on 2019 levels by 2025. For more detail go to Gov.uk.
To deliver a 10% cut in fraud on 2019 levels by December 2024, the government will:
establish a new national fraud squad with over 400 new posts and make fraud a priority for the police

deploy the UK intelligence community and lead a new global partnership to relentlessly pursue fraudsters wherever they are in the world

put more fraudsters behind bars through better investigation and prosecution processes for fraud and digital offences

ban SIM farms which are used by criminals to send thousands of scam texts at once

stop fraudsters from being able to send mass text messages by requiring mass texting services to be registered, subject to a rapid review

Replace Action Fraud with a state-of-the-art system for victims to report fraud and cyber crimes to the police

ban cold calls on financial products so fraudsters cannot dupe people into buying fake investments

stop people from hiding behind fake companies and create new powers to take down fraudulent websites

work with industry to make sure that intelligence is shared quickly with each other and law enforcement

change the law so that more victims of fraud will get their money back

overhaul and streamline fraud communications so that people know how to protect themselves from fraud and how to report it

make the tech sector put in place extra protections for their customers and introduce tough penalties for those who do not

shine a light on which platforms are the safest, making sure that companies are properly incentivised to combat fraud  
Scams Awareness
The annual Scams Awareness campaign is an annual opportunity to raise awareness and empower consumers to take action against those crimes. Scams are many and varied, with increasingly complexity and sophistication. By arming consumers with the knowledge, they need to recognise a scam, they can protect themselves and those around them, preventing harm in the first place.
Scams are not just a minor inconvenience to consumers. Aside from financial loss, they can cause distress, misery, and even if a scam has been avoided, it can lead to a widespread loss of consumer confidence. Please remember they can happen to anyone.  
Scam examples
For information about Universal Credit scams please see our dedicated page.
For other examples of scams affecting consumers please see:
No Cold Calling Zones
The No Cold Calling Zones (NCCZ's) we have set up aim to decrease doorstep crime incidents by specifying an area in which uninvited traders are not welcome. These are set up in partnership with Northumbria Police and Safe Newcastle, and all residents are given a window sticker.  It can be a criminal offence for unwanted traders to come into the zone and the advice we offer provides residents the confidence to say 'no' when approached on their doorstep. We will investigate why traders are operating within a NCCZ if they should not be. There are currently 48 NCCZ's implemented in Newcastle covering some 84,410 households. 
Fifteen of our wards: Parklands, Walkergate, Benwell & Scotswood, Kenton, North Jesmond, South Jesmond, Chapel, Dene and South Gosforth, Blakelaw, West Fenham, Byker, Castle, Fawdon & West Gosforth, Gosforth and Kingston Park South and Newbiggin Hall wards have all been declared as No Cold Calling Zones. 
No Cold Calling Zone Locations
We have zones set up throughout the city where an area has met the criteria that; there is a history of doorstep crime or distraction burglary, a vulnerable population, and within a defined geographic area. If you are within a NCCZ you should have received a consultation letter, and notification of when the zone was implemented along with a window sticker to display on your property. If you have not received this, please contact us for a replacement window sticker.A list of the current zones is also available. A list of the current zones is also available.
Frequently Asked Questions
If you believe an area could benefit from the protection of a NCCZ please contact us for information about the process. We have prepared some FAQ guidance (pdf 126 kb) which may be of assistance. 
To access a guide on Doorstep Crime as published by the House of Commons go to Guide (pdf 1 mb)
A list of the current zones is also available.
Newsletter
In order to promote our work with scams, we aim to publish a bi-annual newsletter. To access a copy of our newsletter go to High Standard (pdf 632 kb).
Press Article
To see an article promoting the work related to NCCZ's please see the Newcastle Chronicle's article on a No Cold Calling Zone introduced in Kenton.
Contact
Trading Standards service, Directorate of Operations and Regulatory Services, Civic Centre, Newcastle upon Tyne, NE1 8QH. Email: tradingstandards@newcastle.gov.uk
Did you know?
We have 48 zones implemented across Newcastle, protecting some 84,410 households. Fifteen of our wards: Parklands, Walkergate, Benwell & Scotswood, Kenton, North Jesmond, South Jesmond, Chapel, Dene and South Gosforth, Blakelaw, West Fenham, Byker, Castle, Fawdon & West Gosforth, Gosforth and Kingston Park South and Newbiggin Hall wards have all been declared as No Cold Calling Zones. 
Related Pages
Need more information?