Shared bins
Shared bins
We have brought in shared bins, where appropriate, in some areas of Newcastle that have back lane waste and recycling collections. They are in place in South Jesmond, Ouseburn, Benwell, Elswick, Wingrove and Arthur's Hill wards.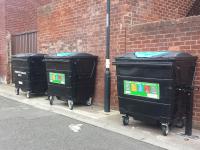 There is a lot of information on this page about shared bins, so either scroll down or just click on the section you are interested in:
What are shared bins?
Shared bins are large, metal wheeled bins which are shared by all the residents in a particular back lane. They replace the separate domestic bins currently used by each household. There are separate shared bins for recycling and household waste.  Some areas have different local arrangements for recycling. Those residents that pay for the garden waste (brown bin) service will retain their individual bin and collection arrangements. We make sure that there are enough shared bins in a back lane to accommodate all the waste that people put out, and to make sure that residents don't have to carry their waste too far from their own door. Because the shared bins sit permanently in the back lane you don't have to worry about putting your own bin out or bringing it back in again - just put your rubbish in the big bin when it is convenient to you. If a bin near you is full, you can just walk down to the next one.
Have a look at our leaflet about shared bins (pdf 2.4mb)
Why we have brought them in
We have found that in some back lanes, the normal household wheeled bins are sometimes not put out in time for collection rounds, or not brought in afterwards. From time to time they get too full and rubbish gets littered up and down the back lane. When the bins get too full there can also be a temptation to leave bags of rubbish and large items by the side of the bin. This too can get scattered around and cause problems with vermin. There will be enough of the bigger shared bins in each back lane to take all the waste and recycling from the street - without the need for individual households to remember to put the bin out or bring it back in.
Back lanes present a number of challenges for the refuse collection service:
Additional resources are allocated to back lanes to deal with excess waste, spillages and litter

There is a demand for replacing wheeled bins

Some wheeled bins are broken and damaged, but repairs and replacements are not being requested

Residents tend to leave wheeled bins out in the lane
The new shared bins would be used by everyone in the street, replacing the domestic bins currently used by each household, and aim to:
improve the appearance of those lanes where a large number of household bins are frequently left out

reduce the amount of 'side waste' left out beside bins

help keep lanes clear of abandoned bins so mechanical sweepers can access them and keep them clean
Anti-social behaviour
Has identity theft been considered?
We recommend all residents dispose of information containing personal details (name and address on envelopes, bank statements etc.) carefully to avoid any identity theft issues. This applies to those with individual wheeled bins as well as shared bins. We suggest you use a shredder; do not burn household waste as this is illegal. Any shredder paper should be bagged and placed in the general waste bin. It is difficult to process for recycling.
Will shared bins increase the opportunity for burglars to access back yards?
Bins are already being left out in lanes so there is no increased risk. In areas where these bins have been introduced, the police have confirmed there has been no increase in theft or burglary due to shared bins.
How will you deal with fly-tippers?
Enforcement operations will continue to monitor back lanes and take action when possible and necessary. There are also CCTV cameras in some areas to monitor for crimes, including relevant environmental offences.
Is there an increased risk of fire or arson with shared bins?
Depending on the bin contents and the air available, it will still be possible to start a fire in a communal bin. However, the fire will be better contained in a metal bin with a solid lid than in a plastic bin.
Any problems or other questions?
If you are going to get shared bins, you will receive letters with specific contact details on.  We are not rolling out the scheme to any other areas at the moment.
If you already have them and have an issue or a problem, you need to report it to Your Local Services by phoning 0191 2787878.
Did you know?
If you have any issues with shared bins you need to report them to Your Local Services on 0191 2787878.
They can log reports for issues such as:
broken lids or wheels

bins contaminated with rubble or bulky items

bins moved to the wrong place
Remember to give as much detail as possible to make it clear where the problem bin is in the lane. 
We are going to start numbering the bins in the lanes so it will make them easier to identify.