What goes in each bin?
What goes in each bin?
This page will tell you what waste and recycling to put in what bin.
Please note we have recently made some changes to what can be recycled so please check our full recycling A to Z for more details.
Please remember that waste must be contained in your bin. We operate collections on a weekly alternating basis. We will empty one 240 litre size bin of refuse one week, and then one 240 litre size bin of dry recycling the next.
All residents of Newcastle have a responsibility to ensure that all of their rubbish and waste is disposed of properly. Under the household waste duty of care you must take reasonable steps to make sure that the rubbish you produce, on your property, is only passed on to an authorised person.
If you produce more waste than what will fit in your bin, you should either take it to one of our recycling centres or arrange a bulky collection.
Whatever colour the bin, it should not be so full that the lid won't fully close, or too heavy as the vehicle has a weight sensor which will not allow a heavy bin to be emptied.
The waste in the bin should be able to tip out into the truck easily. If the waste is too squashed in it will not tip out and we will not be able to empty it. Crews will not return for bins containing compacted waste.
Remember, we don't collect any side waste and you may receive a fixed penalty notice (between £75 and £200) if you put out lose waste next to your bin.
Click on the bin type you need to check:
---
Green bin: household waste
Your green wheelie bin is for household and food waste, and waste that cannot be recycled. Please bag all waste that goes in this bin in either black bags , carrier bags or bin liner bags.
Please do not place the following items in your green bin:
Recyclable materials. Please check our A-Z for details.

Rubble and bricks, building materials and building waste

Vehicle parts

Items which may make the bin too heavy

Commercial or trade waste

Liquids

Small electrical items - please take these to your nearest Household Waste Recycling Centre

Carpets or furniture
---
Blue bin: recycling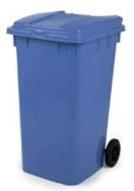 Use the main part of your blue bin to recycle the following items, placed inside loose without bags:
Empty aerosol cans

Cartons and cardboard egg boxes (flattened)

Plastic bottles (flattened, with tops replaced)

Washed and dried margarine tubs, yoghurt pots, meat trays or fruit punnets (no black plastic)

Cardboard (flattened)

Newspaper, magazines and paper (no plastic coated paper, no shredded paper or bound files)

White and brown envelopes - it doesn't matter if they have windows or not

Telephone directories and Yellow Pages

Food and drink cans (rinsed and squashed)

Foil and foil trays (rinsed)

Biscuit tins and plastic chocolate tubs
Use the black caddy inside your blue bin to recycle: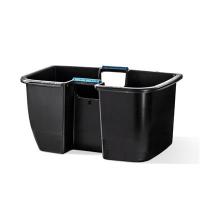 Rinsed glass bottles and jars (not pyrex glass, drinking glasses, broken window panes, mirrors)
You can find a detailed list on our A to Z of Recycling page.
Please do not place compostable films, plastics or items like compostable cutlery and plates in your blue bin. These items are not recyclable. They will fully compost and will not have the same detrimental impact as other mineral plastic films. If you do not compost waste at home, you can dispose of these materials in your green bin with your domestic waste.
Please do not place small electrical items in your blue bin. If you have old or broken things like toasters, kettles or irons, please take these to your nearest Household Waste Recycling Centre
If you have too much glass for the caddy (particularly over Christmas or New Year), use a glass bank in a supermarket car park or at a Household Waste Recycling Centre.
If you live in a multi-occupancy building or flat, you may have a communal recycling bin. In some cases we may provide an additional bin for glass, rather than an internal caddy.
All the materials in the blue bin should be clean, rinsed and dry. There is nothing dirty or unhygienic in a correctly sorted and presented blue bin.
---
Brown bin: garden waste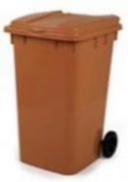 To help you keep a tidy garden your brown bin garden waste collection will accept all your garden trimmings, cuttings, prunings, leaves and weeds.
Please place this waste loosely in your bin, not in plastic bags or sacks.
The following vegetation should not be placed in your bin:
Branches, logs, or roots more than 10cm (4 inches) in diameter

Japanese Knotweed (please see the Government's advice) 
Waste from your brown bin is composted to produce a quality PAS100 soil conditioner used on gardens, allotments and farms in and around Newcastle.
The following should also not be put in your brown bin as it will contaminate the waste and mean it can't be composted:
turf

soil 

clay

stones

rubble

plant pots

dog and cat faeces

straw and hay bedding used for pets

food waste or refuse

compostable films, plastics or items like cutlery and plates*

anything in black bags or plastic bags 
* compostable films and items are made from starch and cellulose. This is not accepted in our Garden Waste process as our site is only able to accept green waste from gardens. If you do not compost waste at home, you can dispose of these materials in your green bin with your domestic waste.
For full details about our Garden Waste Service including prices please go to the Garden Waste page.
---
Shared bins: Domestic waste and recycling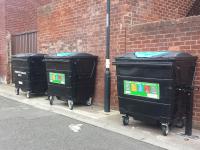 Some areas of Newcastle have shared bins. These are large, black 4 wheeled metal bins and some areas also have blue 2 wheeled glass bins.
Depending on the offer in your area, there are 4 types of shared bin which are all clearly labelled:
household waste - including black bags. This is the same as what goes in green bins.

mixed recycling - loose, dry recycling materials. This is the same as what goes in the main part of blue bins except you can put glass in these bins

recycling -  loose, dry recycling materials. This is the same as what goes in the main part of blue bins.

blue bins for glass only - this is the same as what would go in a glass caddy.
We will also use recycling symbols that are commonly used so it will be even clearer what should go into each bin.
Recycling shared bins also have labels saying 'no black bags' as well as metal blocking plates to stop people forcing black bags in them. You should not force open the main part of the lid, you should use the smaller blue lid to deposit loose recycling.
There are shared bins for mixed recycling - cardboard, paper, cartons, plastic bottles, tins and cans, aerosols and glass. In some lanes there will be separate bin provided for glass bottles and jars only. We do not want plastic bags in the recycling bins so if you bring your recycling in plastic bags please dispose of these in the general waste bin once you have emptied your recycling into the containers.
Please take textiles to charities or clothing banks.
Waste and recycling will only be collected by crews if it is placed in the appropriate container. Any rubbish left outside a bin (shared or individual) could leave the person who left the waste out liable to prosecution. We always request that residents behave responsibly and considerately with their waste.
For full details about shared bins in Newcastle please go to the shared bins page.
Did you know?
Please take care of your own wheeled bins and caddies.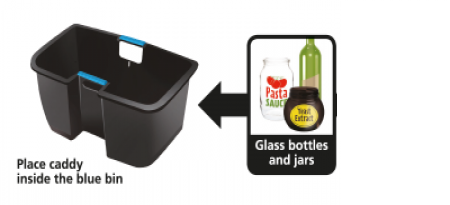 Make sure they are clearly marked as your own.
Always keep your bin securely stored on your property. Do not leave it out on footpaths or lanes when it is not due for collection.
Keeping your bins safe and secure reduces the risk of other people putting items in your bins and helps prevent identity theft.
There is a charge of £25 to replace a stolen, broken or missing 240l or 140l bin. There is no charge to replace a caddy. You can order these via our online forms.