City Library
City Library
Opening Hours
| | |
| --- | --- |
| Monday | 10am to 5pm |
| Tuesday | 10am to 7pm |
| Wednesday | 10am to 5pm |
| Thursday | 10am to 7pm |
| Friday | 10am to 5pm |
| Saturday | 10am to 4pm |
| Sunday | Closed |
The library is open for:
browsing and borrowing a wide range of books including fiction and non-fiction for adults and children;
printing and photocopying;
using public computers and scanners for up to three-hours a day;
free WiFi;
borrowing hublets;
reserving stock including books, DVDs, toys and board games; 
advice on using our BorrowBox app to browse our eBooks, eAudiobooks and eMagazines 
council enquiries; and
freephone to other council services.
The public computers are automatically turned off 15 minutes before closing time.
This library is autism-friendly. Please see our user guide for more information.
Access
City Library is located at the heart of the city centre on the corner of John Dobson Street and New Bridge Street West. The main entrance, known as the 'blue box', has level access and automatic doors leading to Level 1. City Library has six floors with both stair and lift access. A second entrance from Princess Square, again has level access and automatic doors leading to Level 2.
Being in the city centre, we have:
Very good local bus links.
Monument Metro station, just a three minute walk away.
Cycle racks outside the library on John Dobson Street, New Bridge Street West and Princess Square. 
Limited on-street parking available on Lisle Street next to City Library or parking in Saville Place Car Park (entry from Durant Road).  Check signage for the tariff and length of time you can park.
Electric car charging points on Charge Your Car website. 
We have a hearing induction loop to assist communication with hearing impaired people. There is a dedicated public PC for visually impaired people on Level 3. all public PCs have variable font size and a listen and translate function. We have free WiFi in the building and public toilets on all floors.
Full accessibility information can be viewed on City Library's page on the AccessAble website.
Contact us
Email: information@newcastle.gov.uk
You can also find us on Twitter, like us on Facebook, follow us on Instagram or have fun with us on TikTok!
Other services at City Library
Business and Intellectual Property Centre
The Business & IP Centre Newcastle (external link) exists to enable inventors, start-up businesses and established businesses based in the North East of England to access information, advice and support. The Centre, also knows as "the BIPC", is based at Newcastle City Library. 
Experts in residence
No matter how advanced your idea is and the sector in which you operate, appointments with our local Experts give you the opportunity to discuss on a one-to-one basis a wide range of business topics. Our Experts have experience of business start-up and support, innovation and growth, intellectual property and law, marketing and communications, finance, business resilience and other areas of business expertise.
Intellectual property (IP)
Our whole team is certified by the UK Intellectual Property Office to provide initial information about patents, trade marks, designs and copyright. They can explain how to use IP to protect what you create as part of your business and how to make sure you do not infringe anyone else's IP rights.
Business collection and market intelligence
Our collection of hard-copy materials and online databases can help you develop new products and services, explore new markets, or help you find relevant grants for your organisation.
Citizens Advice Newcastle
Citizens Advice Newcastle offers walk-in advice sessions on Level 4 of City Library from 10am to 12 noon,  Monday to Friday, no appointment needed.  The team of specially-trained staff and volunteers offer free, confidential, independent advice on almost any issue. This includes:
money, debt or benefits;
housing;
immigration;
employment;
consumer issues;
family problems;
social care; and
health services. 
Skills Hub
The Skills Hub is based in City Library and brings together a range of partner organisations who offer young people and adults living in Newcastle:
Careers advice and guidance
Help getting into work and training
Advice setting up a business
We provide an enhanced service, 'Jobs @ Skills Hub', to help local employers to recruit local jobseekers, and make it as easy as possible for people to get back to work and for employers to grow their workforce. A free programme of events is also available and includes support workshops with practical advice, and employer-led activities, such as jobs fairs.
You can visit Skills Hub website (external link), our Facebook page or watch our short video to find out more about the Skills Hub.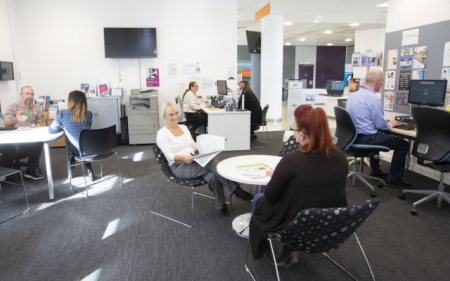 Skills Hub Opening hours
Skills Hub is open Monday to Friday from 10am to 5pm in City Library.
UK Visa and Immigration Service
We operate an appointment-only service at City Library on behalf of the UK Visa and Immigration Service. Please only attend if you have received an appointment notification direct from them.  We will not be able to deal with you if you do not already have an appointment.  You need to book directly with the UK Visa and Immigration Service. We cannot give advice on Visa or Immigration matters or applications.
Did you know?
You can borrow books, audiobooks, board games and DVDs for free. You can read eBooks, eAudiobooks and eMagazines for free on your device, wherever you are. 

To find books, stories and research materials you can:

 

If you would like to give us feedback about our libraries, you can do so by completing this short online form.

 

Tyne God Mask

The image is one of nine 'masks' which adorned the Strand front of Somerset House in London when it was rebuilt in 1786.

They were designed by the architect Sir William Chambers. The centre one represented the 'Ocean' and the others represented eight English rivers:  Thames, Mersey, Humber, Tweed, Medway, Dee, Tyne and Severn. They were carved in stone; five by Wilton and four (including the Tyne) by Carlini, who were two of the early Royal Academians.

The River Tyne is represented by a head having a beard in three plaits surmounted by a basket containing coals and surrounded by various emblems of trades of the district.
You can plan your journey to City Library in Google maps: