City Library
City Library
Opening Hours
| | |
| --- | --- |
| Monday | 10am to 5pm |
| Tuesday | 10am to 7pm |
| Wednesday | 10am to 5pm |
| Thursday | 10am to 7pm |
| Friday | 10am to 5pm |
| Saturday | 10am to 4pm |
| Sunday | Closed |
The library is open for:
enquiries;
three-hour computer access;
printing and photocopying;
browsing and borrowing our DVDs, board games and wide range of fiction and non-fiction for adults and children;
The public computers are automatically turned off 15 minutes before closing time.
This library is autism-friendly. Please see our user guide for more information.
Contact us
Email: information@newcastle.gov.uk
You can also find us on Twitter, like us on Facebook, follow us on Instagram or have fun with us on TikTok!
Other services at City Library
The Business & IP Centre Newcastle (external link) exists to enable inventors, start-up businesses and established businesses based in the North-East of England to access information, advice and support. The Centre, also knows as "the BIPC", is based at Newcastle City Library. 
Experts in residence
No matter how advanced your idea is and the sector in which you operate, appointments with our local Experts give you the opportunity to discuss on a one-to-one basis a wide range of business topics. Our Experts have experience of business start-up and support, innovation and growth, intellectual property and law, marketing and communications, finance, business resilience and other areas of business expertise.
Intellectual property (IP)
Our whole team is certified by the UK Intellectual Property Office to provide initial information about patents, trade marks, designs and copyright. They can explain how to use IP to protect what you create as part of your business and how to make sure you do not infringe anyone else's IP rights.
Business collection and market intelligence
Our collection of hard-copy materials and online databases can help you develop new products and services, explore new markets, or help you find relevant grants for your organisation.
Skills Hub
The Skills Hub is based in City Library and brings together a range of partner organisations who offer young people and adults living in Newcastle:
Careers advice and guidance
Help getting into work and training
Advice setting up a business
We are currently providing an enhanced service, 'Jobs @ Skills Hub', to help local employers to recruit local jobseekers, and make it as easy as possible for people to get back to work and for employers to grow their workforce.
You can visit our dedicated website or watch our short video to find out more about the Skills Hub. 
The Skills Hub partner organisations offer one-to-one appointments, which can be arranged by visit, phone or email. These organisations include: 
A free programme of events is also available and includes support workshops with practical advice, and employer-led activities, such as jobs fairs. Information about the latest events can be found on the Skills Hub website or our Facebook page.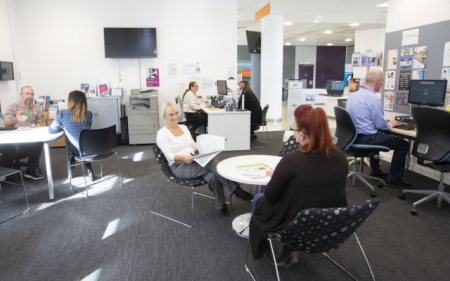 Opening hours
Our opening hours are  Monday to Friday from 10am to 5pm in City Library.
Did you know?
If you would like to give us feedback or make a request about City Library, you can do so by completing this short online form

---

 

You know you can borrow books, audiobooks, board games and DVDs for free. You can also read eBooks, eAudiobooks and eMagazines for free from home. 

To find books, stories and research materials you can:

Browse our online catalogue to find items to borrow.
Explore BorrowBox to download eBooks and eAudiobooks.
Explore Libby to access eMagazines - it has the latest issues of your favourite magazines for all ages.

You can plan your journey to City Library in Google maps: