Newcastle Libraries achieve Customer Service Excellence
Newcastle Libraries achieve Customer Service Excellence
Customers expect the highest levels of service from the businesses and organisations they come into contact with. Similarly, organisations hope their customer service will help to retain customers and grow their business and services.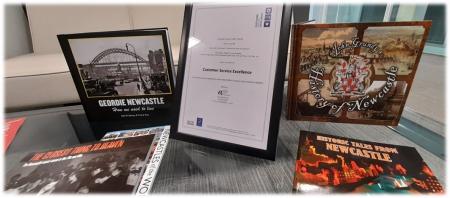 The Customer Service Excellence standard focuses on delivery, timeliness, information, professionalism and staff attitude. It also requires organisations to have a comprehensive insight into their customer, understand the user's experience and have sound processes in place to measure customer satisfaction with the service.
In March 2022, Newcastle Libraries were assessed by SGS for this standard. The Libraries' approach to tackling poverty was a particular strength:
there is a joined up approach to addressing poverty across all agencies;
officers have been trained to spot the signs of poverty;

[staff are] advising customers on how to complete UC applications and helping them to find the right support.
The Assessor judged Newcastle Libraries to have the following areas of Compliance Plus (exceeding the level which is required to achieve the Standard)
Our

approach to supporting the city during the pandemic, especially the number of alternative roles that Library staff have covered, and since re-opening, "

the focus is now on helping the customers to return to normal and make the most of the library services."

The library service culture of working in partnership with other agencies.

City Library as a stand-alone facility.
The Assessor identified 12 areas of Good Practice:
Continued success and increased capacity of our UK Visa Service.

Flexible approach to change to meet new challenges, for example, poverty.

Recently replaced the OPAC (Online Public Access Catalogue) with a new interface called Discover Newcastle Libraries.

As we come out of the pandemic restrictions many more events are planned for customers this year.

Greater use is being made of social media platforms supported by a dedicated team.

Charges for reservations and fines for returning items have been permanently removed.

Cleanliness of libraries.

Helping to improve customer IT skills.

Gathering customer satisfaction feedback which alongside traditional methods now includes the use of QR codes on posters.

Open day held to assess the business viability of a new cafe provision at City Library.

Environmental and sustainability improvement to City Library including moving to LED lighting, fitting solar panels on the roof and introducing air source heat pumps.

Staff annual appraisals and reviews with line managers in place. The Service Manager is interviewing all staff to gather their views on how the service should be going forward.
"Many more events are planned for customers this year. This is across all libraries and across the city... This is encouraging people to get back into the habit of visiting their local library." (CSE Assessor).
Did you know?
Our Customer Service Charter says we will:
Offer clear, quick and easy to use website information;
Provide a high-quality, reliable online customer experience;
Support you to access online services;
Treat you fairly and with respect;
Have polite, well-informed staff, who take pride in what they do; 
Listen to you;
Try to understand your point of view;
Keep you informed about the progress of your enquiry;
Do what we say we are going to do; and
Try to get things right first time.