Parking Outside of Schools
Parking Outside of Schools
When parents or carers are picking up or dropping off children at school it is advisable that they park sensibly, safely and in accordance with any parking restrictions.  If a parent or carer is either taking or picking up a young child from a school they would be allowed to park for as long as it would take to physically escort the child from the vehicle and into the school, however this would not include any time spent waiting for the school to open or close. Vehicles should not block residents drives as this could result in a Penalty Charge Notice (PCN) being issued by the Local Authority.
Immediately outside of schools, there will often be yellow zig zag lines and the words "School Keep Clear" in place to help ensure that the area immediately outside the school is kept clear for safety reasons.  A vehicle may not stop on zig zag lines during the restricted no stopping times. This parking restriction also applies to Disabled Blue Badge holders.
The Highway Code states:
Rule 243
DO NOT stop or park: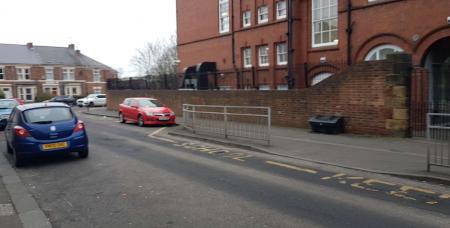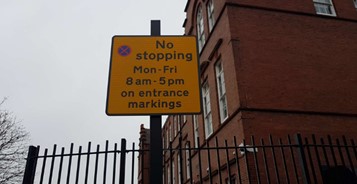 If a motor vehicle is parked on the yellow zig zag lines outside of a school, they may be issued with a PCN by a Civil Enforcement Officer (CEO) which will be placed on the windscreen of the vehicle. Alternatively, a PCN can be issued via the post by the use of an Automatic Number Plate Recognition camera (ANPR) which is approved for use to enforce this type of parking restriction.