29 March 2022
| | 3 min read
Rugby League World Cup trophies tour launches in Newcastle
Today (Tuesday 29th March) marks 200 days to go until the Rugby League World Cup 2021 (RLWC2021) makes a real impact across the nation when England take on Samoa in the tournaments' opening fixture at St James' Park, Newcastle on 15th October 2022.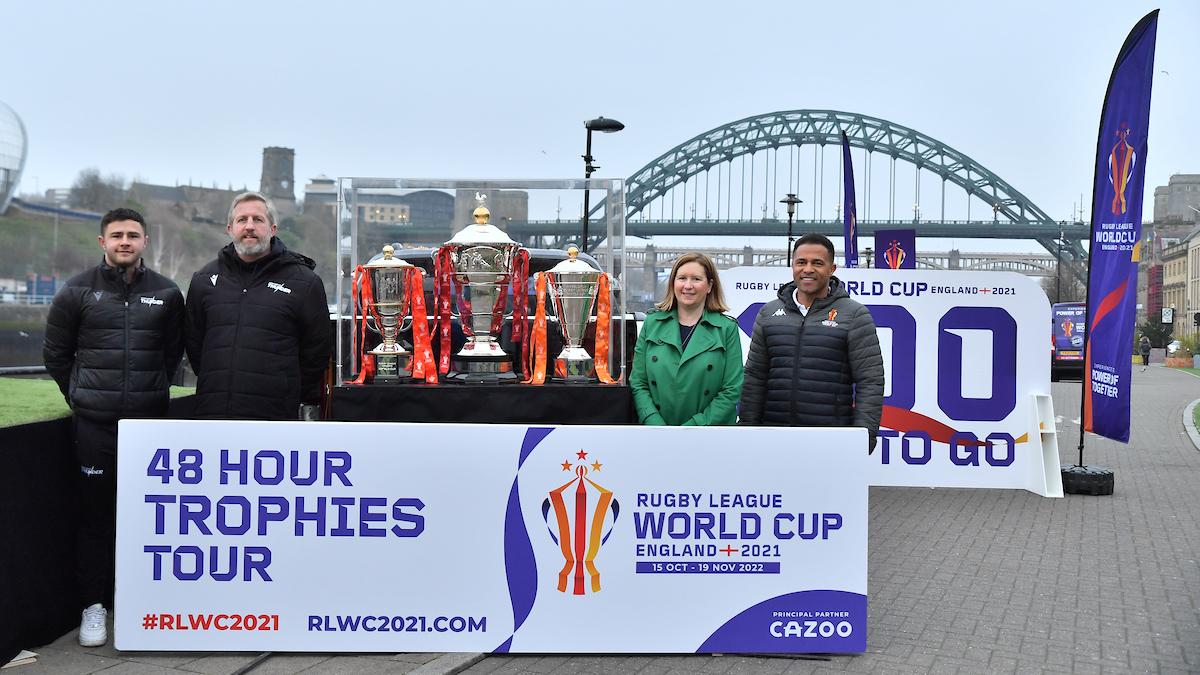 To commemorate the milestone, the tournament has been undertaking a 48-hour trophies tour of the 18 host towns and cities in celebration of a 48-hour ticket upgrade offer, whereby fans can benefit from a ticket upgrade that is too good to miss. This means any fans that buy a Category C ticket for the opening fixture of the men's tournament between England and Samoa at St James' Park and the first game at Kingston Park between Scotland and Italy, will have their tickets automatically upgraded to Category B, with prices starting from just £15
The trophies tour, whereby the silverware from the men's, women's and wheelchair tournaments will be paraded around the towns and cities getting ready to host the 61 matches of the upcoming World Cup, commenced today (Tuesday 29th March) at 07:00 in Newcastle with RLWC2021 Ambassador Jason Robinson.
With the city hosting the opening game of the men's tournament at St James' Park as well as three fixtures at Kingston Park, the three trophies were welcomed in Newcastle by Newcastle Thunder player Jack Johnson, Director of Rugby Denis Betts and RLWC2021 ambassador Jason Robinson. The guests were challenged to kick a Sully Ball through a giant RLWC2021 logo, which was floating in the River Tyne.
The promotional tour has featured the tournament's new campaign 'This is Real Impact', to support ticket promotion and provide a platform to tell the many stories of the contribution the tournament is making in communities through its social impact programme and in respect to inclusivity in hosting the men's, women's and wheelchair tournaments under one World Cup for the first time in the sport's history.  
Former England international Jason Robinson, and Newcastle City Council Chief Executive Pam Smith, look ahead to the Rugby League World Cup which kicks off in Newcastle on October 15
Jon Dutton, Chief Executive of RLWC2021, said: "After an incredibly challenging couple of years for everyone, it is hugely exciting to be able to take our three unique trophies to each host partner as they put on their own celebration and make a 'Real Impact' in their local communities.
"We'd like to thank our partners in Newcastle for their brilliant event to mark the milestone. The road to RLWC2021 starts now and with this limited ticket offer and exciting new campaign being released, we hope to encourage fans up and down the country to obtain the best seats in the house at the best possible price." 
Pam Smith, Chief Executive of Newcastle City Council, said: "It's fantastic for Newcastle to be hosting the opening fixture of the Rugby League World Cup and further fixtures at Kingston Park, and with just 200 days to go until England face Samoa we're really excited for it to come around.
"Newcastle has a brilliant relationship with rugby league and its passionate supporters and coupled with the city's track record of hosting major international sporting events, we know the Rugby League World Cup will be a fantastic occasion for the city.
"It's been a pleasure to host the trophies this morning at the start of the nationwide trophies tour, and we're now all the more excited for the action to begin on October 15."
Stephen Patterson, Chief Executive of Newcastle NE1 Ltd, said "We're delighted Newcastle is hosting the opening ceremony and opening match of the Rugby League World Cup, kicking-off the 200 days to go countdown in style, joined by Jason Robinson on Newcastle's iconic Quayside. It's fantastic for the city to be hosting such a high-profile event again and we have no doubt the fans will have an amazing time when they are here in the autumn, we can't wait to welcome them."
Paul Szomoru Director at tourism investment agency at NGI said: "It's brilliant to be supporting the Rugby League World Cup and it's fantastic that Newcastle is once again able to host such a high-profile event. The city and the region, have a fantastic reputation for staging major sporting events and we are excited to showcase all we have to offer to rugby fans from around the globe.
"To be able to host the opening ceremony and first game is an awesome achievement for the destination. The legacy of events such as this are hugely important for the region's economy with visitors making return trips after coming here as a sports spectator. We know a large proportion of our visitors travel to Newcastle to watch sport and we're looking forward to giving players and visitors a warm Geordie welcome."
Ticket prices for the tournament start as low as £2.21 for concessions, as the unique tournament will be one of the most accessible and affordable for fans with more than 80% of tickets priced below £50. Fans can purchase tickets via www.rlwc2021.com/tickets.
Follow the Trophies Tour live on RLWC2021's  official social media channels Twitter, Instagram, TikTok and Facebook, with exclusive content including interviews, event snaps and behind-the-scenes footage of the 48-hour tour.