7 February 2020
| | 4 min read
Newcastle is a City of Languages
An ambitious new strategy to expand international learning and experiences for Newcastle and its young people has been agreed between city leaders and launched during a visit by the French Ambassador.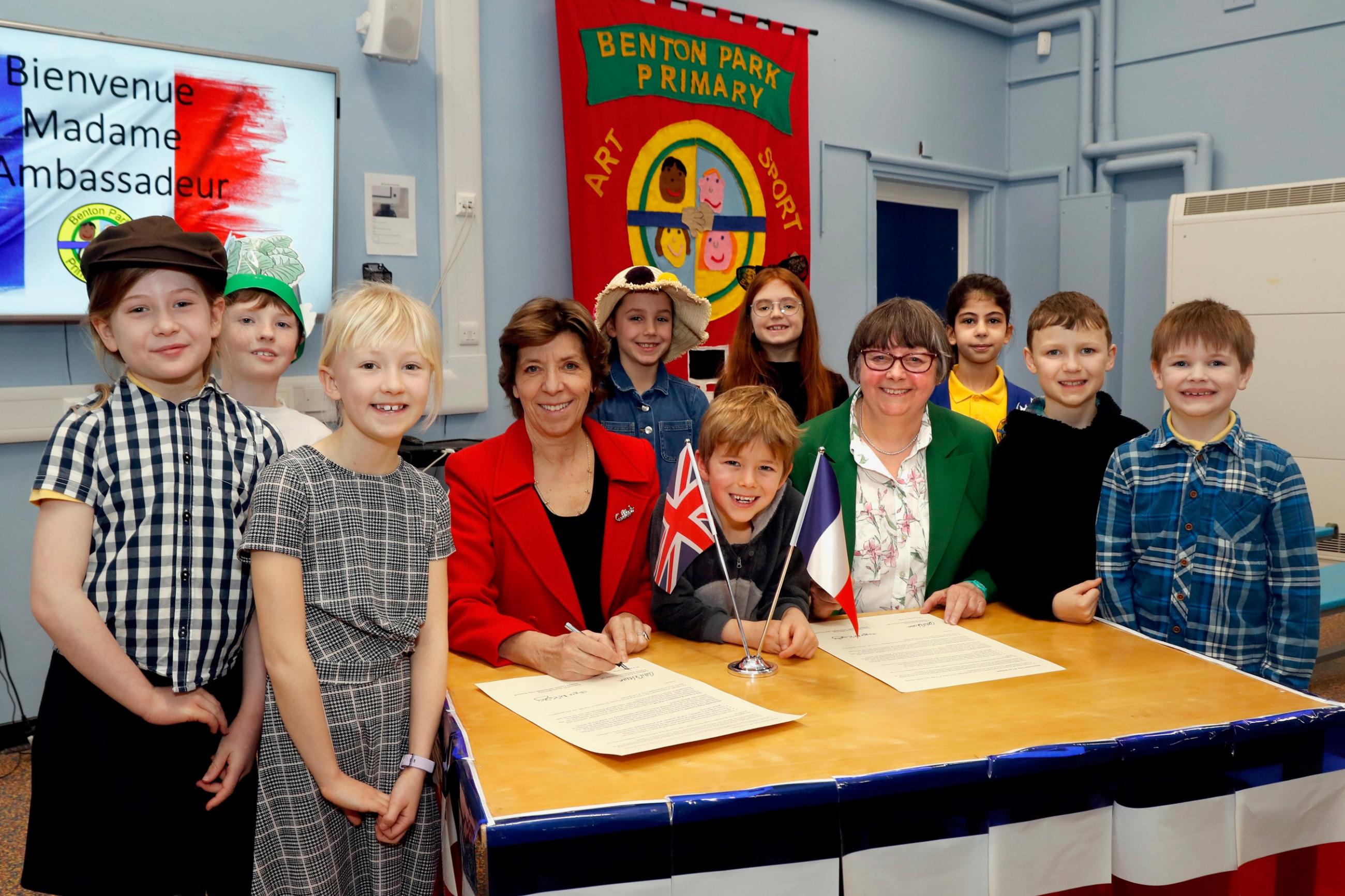 Cllr Joyce McCarty, deputy leader of Newcastle City Council, was joined by Catherine Colonna, the French Ambassador to the UK, as they visited Benton Park Primary School to formally sign the declaration and launch the ambitious new vision.
Newcastle City of Languages is a UK first and is a bold partnership designed to support primary and secondary schools to deliver more modern language lessons, embrace and celebrate the diverse communities in Newcastle, and to create opportunities to connect with places across the globe.
The strategy is supported by the City Council, Newcastle and Northumbria Universities, colleges, businesses and voluntary and community sector.
Working with the British Council the group has helped to shape and implement a city-wide plan to support internationalism called 'Our Newcastle Our World'; embracing the diverse range of international communities that live, work and study in Newcastle and celebrating the civic, cultural and academic links the city holds.
The first key goal for this plan was to focus on children and young people and help shape them into confident, global citizens. To help realise this ambition the partnership will promote more learning opportunities and investment for language learning in schools, generate business links around the globe to encourage international employability and global skills, and to advance and support international links and exchange opportunities. 
Cllr Joyce McCarty said: "I am thrilled that Newcastle City Council has signed this declaration and launched this ambitious City of Languages strategy.
"Newcastle is a forward thinking, ambitious city that is proud to the home of many diverse cultures, communities and people.
We are proud to celebrate the positive connections we already have with cities in Europe and across the globe and are passionate about developing new, beneficial relationships.
"City of Languages will create new and unique opportunities, experiences and learning for children and young people across Newcastle that will help shape them into confident members of global society.
"Many international businesses and organisations call Newcastle their home and the potential for young Newcastle residents to gain the knowledge, experience and life skills to capitalise on the opportunities this presents is vital."
French Ambassador to the UK, Catherine Colonna, visited Benton Park Primary School formally sign the Newcastle City of Languages strategy
Declan Baharini, Director of International Newcastle said:
 "We are delighted to see the launch of Newcastle City of Languages. This an important strand of activity in the Our Newcastle Our World plan, which International Newcastle leads on for the City.
"For the past year, we have been bringing together city partners and working with British Council, the Institut Francais and others to explore how we can help achieve the ambitions and aspirations of young people, who want to be part of the world, understand and connect to other cultures and to be able to communicate in other languages. 
"Newcastle City of Languages will bring more resources and support for language learning across the city, show how we value language learning and enable young people to develop intercultural awareness, a global outlook and skills for their lives and careers."
Kathy McArdle, Director, England and Cities, British Council, said: "The British Council is delighted to be working in partnership with International Newcastle on the Our Newcastle Our World international city plan.
"Together, we have set out a bold ambition to support and enable all children and young people to become global citizens, celebrating the international communities, cultures and languages in this great city.
"We are particularly excited to be working closely with partners across Newcastle on this City of Languages initiative, piloting a focused approach with an alliance of organisations to ensure every child and young person has a meaningful international experience in their lives, with a revived passion and appreciation for language learning and multiculturalism being at the heart of this work."
Catherine Colonna, French Ambassador to the UK, said: "The French Embassy in the UK is committed to enhancing Franco-British relations and supporting the teaching and learning of French in the UK. This objective is in line with the French President's Plan for the French language and Multilingualism in the world."
"As the Ambassador of France to the UK, I commend Newcastle City of Languages, an initiative unique in the UK, for its goal to develop language skills and encourage international experiences for the young."
Through its Cultural Services, the French Embassy in the UK is looking forward to supporting the City of Newcastle in achieving these great ambitions."
I commend Newcastle City of Languages, an initiative unique in the UK, for its goal to develop language skills and encourage international experiences for the young
Catherine Colonna
French Ambassador to the UK