Holocaust Memorial Day in Newcastle
Holocaust Memorial Day in Newcastle
Holocaust Memorial Day takes place every year on 27 January, the anniversary of the liberation of Auschwitz by allied troops.  It is a day to remember the millions of people murdered in the Holocaust and in the genocides that have followed.  Each year Holocaust Memorial Day focuses on a theme that aims to help us learn more about the past, to empathise with others and to work towards a better future.  
Newcastle has been an active and committed contributor to the National Holocaust Memorial Day programme since it began in 2000.  The programme allows our city to not only commemorate and show respect for the victims of the Holocaust and other genocides but to engage with residents from all backgrounds to deliver a programme of creative and educational activities which:
Identifies and examines discrimination and discriminatory behaviour and the consequences
Encourages appropriate opposition
Fosters better understanding of the origins and history of communities that have arrived in our city more recently
Encourages greater tolerance and social inclusion; and
Contributes to the council's ambitions around equality.  
Newcastle's programme is recognised nationally and, in 2007, our city was the first in the UK, other than the national capitals, to host the National Commemorative Event.  In 2015, the council decided to move from delivering the activities itself to offering funding for independent projects which provided a focal point for remembrance.  The programme, which included lectures, exhibitions, films, plays, concerts work shops and learning activities, was a great success and created opportunities for more communities to take part in a way that not only reflected the diversity of Newcastle but made use of the wide range of skills, knowledge and commitment that is available in our city.  
Our Holocaust Memorial Day activities have continued to be organised in this inclusive way ever since.
Holocaust Memorial Day 2023 - 'Ordinary People' in Newcastle
"People may think that they have nothing to do with my story. But what happened to me, could happen to them – to people like yourself. It may sound too hard to believe but this doesn't happen to strangers who live far away. I'm just an ordinary person. These terrible things can happen to people like us." - Kemal Pervanić, survivor, Bosnia
The theme for Holocaust Memorial Day 2023 is Ordinary People. The theme will consider how Ordinary People were involved in all aspects of the Holocaust and subsequent genocides. How Ordinary People were perpetrators, bystanders, witnesses and rescuers and how those who were persecuted, oppressed and murdered are Ordinary People who were targeted for belonging to a group or community that their persecutors did not like..
Holocaust Memorial Day 2023 will also be a day for Ordinary People, people like us, to think about how we can play a role in challenging the prejudice, discrimination and hatred that still exists in the world today.
Find out more about Holocaust Memorial Day 2023 and how you can get involved here.
Holocaust Memorial Day 2022 - 'One Day' in Newcastle
"You didn't think about yesterday, and tomorrow may not happen, it was only today that you could cope with, and you got through it as best you could." - Iby Knill, survivor of the Holocaust
The theme for Holocaust Memorial Day 2022 was One Day.  Holocaust Memorial Day, 27 January, is One Day that we can all put aside, come together to remember and learn about the Holocaust, Nazi Persecution and the genocides in Cambodia, Rwanda, Bosnia and Darfur.  Holocaust Memorial Day is One Day when we can all hope for a world with no genocide, when we empathise with others and hope for a better future.
You can find out more about our Holocaust Memorial Day 2022 and other previous Holocaust Memorial Day activities here.
Did you know?
10,000 unaccompanied children in Nazi territories between the ages of 5 and 16 were given refuge in the UK. This was a unique humanitarian operation which became known as the Kindertransport.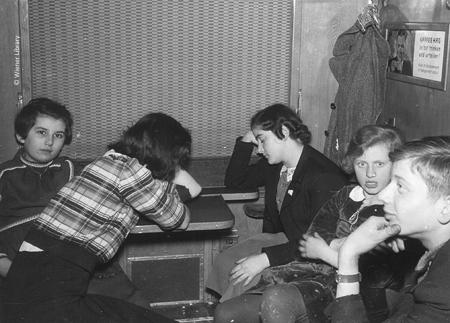 Read more about at    Kindertransport and refugees.