Limited Stay Bays
Limited Stay Bays
In a number of on street locations in the city limited stay bays have been introduced to promote a turnover of vehicles.  An example of this restriction would be parking bays near to a group of local shops and cafes with the restriction aiming to allow as many people as possible the opportunity to park near to and visit the local businesses.
These bays can also be found in areas where residential parking permit schemes are in place.
The first example of this type of restriction are parking places where there is a limit on how long you can park and also a stipulation that you cannot then leave and return to the area within a specified period of time.
The sign below conveys to motorists that between core hours of 8.00am to 6.30pm, Monday to Friday you are only allowed to park there for a maximum period of 2 hours and cannot then return within a further 6 hours.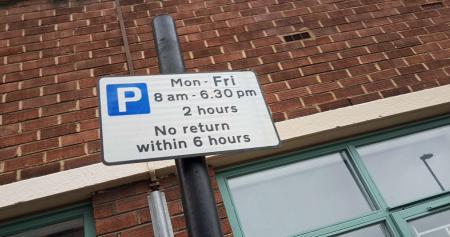 The second example, as per the image below, highlights a similar maximum stay within a permit parking zone, but on this occasion the permit holder is exempt from the time restriction.  Outside of the time band of 8.00am to 6.30pm Monday to Saturday there are no time limits for a motorist to park in this area.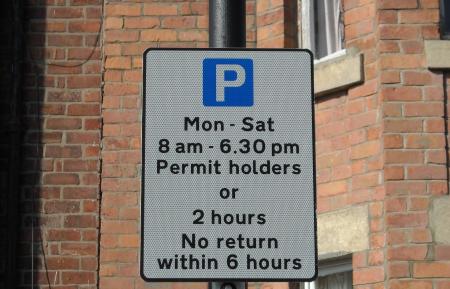 A Civil Enforcement Officer (CEO) would observe and note the details of vehicles parked in these bays whilst patrolling the areas and would issue a Penalty Charge Notice (PCN) to the vehicle if it had stayed beyond the allotted time.
A vehicle displaying a Disabled Person's Blue Badge can park in this type of bay without the time restriction, as long as they are clearly displaying a valid Blue Badge and the badge holder is present in the vehicle when it is parked.