Street care and cleansing
Street care and cleansing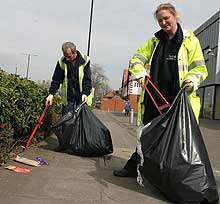 How clean a city is makes a huge difference to the quality of life of local people.
We all want to live in places that are clean, green and safe. It also affects how attractive a city is to visitors and businesses.
Our Local Services Teams work hard to make sure Newcastle is place we all want to live in, work in and visit. We clean public areas of rubbish throughout the city. The areas covered include the following:
streets (including roundabouts, traffic islands, highway verges, service roads and footpaths)

recycling centres

paved areas

car parks

public open spaces
We inspect the streets and sweep or litter pick as necessary to maintain the standard required by Part IV of the Environmental Protection Act 1990 and the Code of Practice on litter and refuse.
We also:
respond to reports of litter, graffiti on Council property, and fly-tipping

provide and empty litter bins

wash and disinfect areas of the city as required
We do not clear rubbish from private property or land owned by other organisations, except by prior arrangement where we have to make a charge for the service.
The Council's Environmental Protection Service should be contacted for advice about persistent offenders and enforcement issues on 0191 278 7878 or email psr@newcastle.gov.uk.
Did you know?
We are committed to creating a better environment for everyone. You can read more about how we will look after our environment on these pages:
Pages in this area